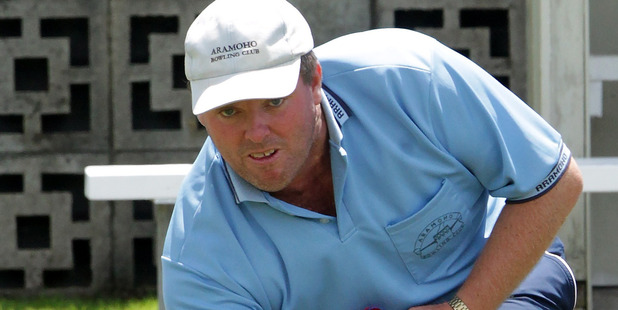 The ambassadors have been announced for the New Zealand Masters Games to be held in Whanganui next year.
They are Grant Kereama, Cath Cheatley, and Sean Johnson. This is the second NZMG that Sean has been named Ambassador for since he was so well liked last time. "Sean's passion for sport makes him the perfect Ambassador," says Mark Stoneman, Chair of Whanganui Events Trust which manages NZMG in Whanganui. "This, along with his accomplishments of playing 99 bowls tests for New Zealand, and as a world lawn bowls silver and bronze medallist, ensures that when Sean officiates at a medal ceremony for NZMG, the participants feel really special."
Sean was inducted into the Sports Hall of Fame in 2013.
Born in Dannevirke, he became an anchor member of the Whanganui representative side and the Aramoho club which also boasts ex-world champion Peter Belliss.
Sean was Wanganui Sportsperson of the Year in 2001, 2002, 2003 and 2004. He won a silver medal in the triples and a bronze medal in the fours at the 2004 world championships.
The previous year he won gold in the triples and silver in the fours at the 2003 Asia Pacific championships after being runner-up in the singles and third in the triples at the 2001 tournament.
After playing for a New Zealand Selection against South Australia and Ireland, Sean was a New Zealand under-30 representative against Australia (1998-2000), played in the Millennium singles in Scotland in 2000, in the Northwest test series in England in 2001, was a trans-Tasman representative against Australia between 2001 and 2004, and represented New Zealand at the 2002 Manchester Commonwealth Games.
At the national level he won the open pairs with Chris Waterson in 2000, the national club triples in 2004, was in Aramoho's New Zealand champion inter-club team in 2003, was in Whanganui's winning national junior team for the John Flett Trophy in 1993 and in the champion Wanganui Super 8 team in 1999.
Sean was runner-up in the national fours in 1999 and third equal in the singles the following season.
On the Whanganui front Sean has won 18 open titles and 23 Aramoho club championships.
Grant Kereama is a multi-award winning radio presenter and one of The Hits' most well liked personalities.
He was born and bred in Whanganui and says he is thrilled that the New Zealand Masters Games is moving to the CBD with The Games Village in the War Memorial Centre. This is the first time that Grant has been a NZMG Ambassador.
Cyclist Cath Cheatley is on her way to Rio, and most likely has already landed, but she has Whanganui's New Zealand Masters Games in her sites for February next year. Cath is an admired athlete and has participated in 2010 Commonwealth Games in Delhi; 2008 Olympic Games in Beijing, 2006 Commonwealth Games in Melbourne, 2009-2012 Colavita Professional Women's Cycling Team USA, 2007-2009 Cheerwine Professional Women's Cycling Team USA, NZ Road Team 2009-2012 and NZ Track Team 2004-2009. Cath is excited about coming home to cheer on friends and family.
Musician Peter Urlich has asked to be a Masters Games huge super fan instead. Peter is bringing his new band, The Magnificent 7 to town to perform on the opening night of the Games on February 3 in the War Memorial Centre with Jordan Luck and Eddie Rayner. "I'm looking forward to helping one of the organisers, my friend Kathy Cunningham, with The Opening Ceremony," Peter said. "And, although I would like to enter The Games as a participant, I will pay music instead."
Mark Stoneman thanked PowerCo Trust for their support for every New Zealand Masters Games.
"And to Air Chathams for placing the Entry Guide in every seat pocket of their planes. We are certain that this NZMG 2017 will be the best ever." ¦ Registration is now open at www.nzmg.com