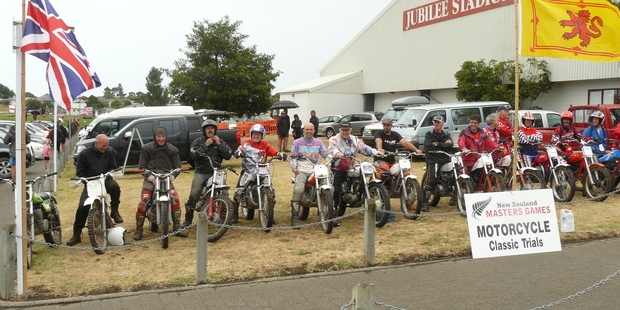 At the 2015 NZ Masters Games in Wanganui, Classic Trials was a new sport that a team of locals were keen to see included. Richard Bullock took up the challenge to organise the event with assistance from Glen Bullock, Ben Morell and team. The event was so successful plans are underway to grow the event into two days for the 2017 Masters in Wanganui, and potentially four days for the 2019 30th NZ Masters Games in Wanganui.
In 2008 the sport was introduced to Wanganui riders. The Jeff Smith Classic Trial was held at Brunswick Rd with 25 entrants on a range of machines - BSA, Triumph, Norton, James, Francis Barnett, Greaves, Ambassador, Montesa, Bultaco and a lone Honda TL125 from Pahiatua. Tiger Cub, Trophy and 3TA Triumph mounted riders competed against Norton 500T, BSA CI5 Trials 250 plus the bigger B44 441cc machines in the Pre 65 and Pre 70 Class. Eight years later the majority of riders are on Japanese or Spanish machines.
At the Easter 2008 event a local trials rider came on his Montesa 200 to take on the visitors. After this event Quentin Handley helped start the sport locally by hosting trials on his Rapanui Rd property as did Tim Gibbes of British Spares who sponsored events both locally and in Kaitoke, Akatarawa and Whiteman's Valley in the capital. And from those early days the events have evolved into a key focus now on Wanganui, Bulls and Halcombe venues.
So it was a great surprise for me to arrive at the 2015 Masters Games Classic Trial to see Dick Phillips entered on his Norton 500T machine and Alan Burgess on a BSA B40 350cc, the sole Brit bike, entrants in the 25-rider field. This 1954 Norton 500T had been purchased a year earlier from Steve Wynne in Kerikeri.
Steve was the former proprietor of Sports Motorcycles in UK that entered the Ducati for Mike Hailwood's famous 1978 TT win comeback. Dick's first new bike had been a Norton 99 Dominator 600cc De Luxe purchased in December 1960 that he owned for two and a half years before going on his OE. From 1968-1971 Dick raced a 500cc Manx Norton on the closed road circuits of the Republic of Ireland. He started riding trials for fun in 1996 and in the past few years has also run a Honda TLR200.
The NZ Masters Games Classic Trial was a special day for all riders as half the trial was on natural obstacles at Airport Rd with five of the 10 sections on man-made obstacles at Springvale Park. The crowd that gathered at Springvale enjoyed the spectacle, as did the riders. The aim had been to bring the sport to the public and give the riders something a bit different in the form of challenges. With the Masters Games coming up on February 11 next year, plans are underway to make Classic Trials bigger and better. The sport is open to Pre 95 trials and trail bikes and volunteer observers are needed. Full training for observers will be given, and you need a bit of patience and a keen eye for detail.
¦ All enquiries please contact Robert Cochrane 06 343 7585, 022 154 0334 or robertc72@xtra.co.nz