Kawiti Tautari probably owes his life to his seatbelt.
The Levin Container Rubbish truck driver walked away without injury when his truck slipped off Levin's Gladstone Rd, rolling more than 30m down a steep bank before crashing on its side at the bottom.
Tautari said he was driving up the road to empty a client's skip bin when the edge of the road gave way beneath his tyres.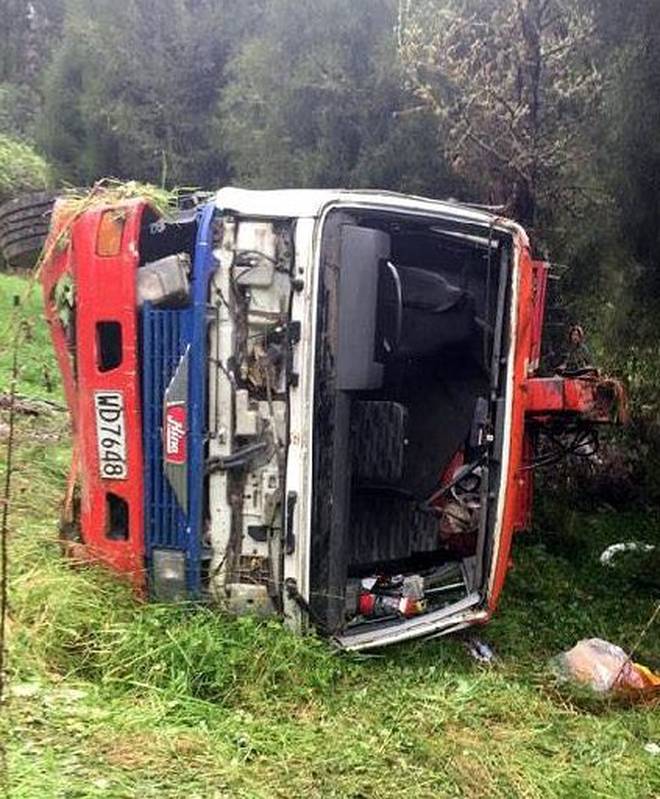 He said heavy rain had affected the road, and loose gravel at the edge made it look as though there was a surface there when there wasn't.
"I could feel it sort of going and tried to pull it back onto the road but the truck kept going," he said of the moment he realised what was happening.
While the steering wheel flew around wildly in his hands, he grabbed the seat belt he was wearing and held on as the big vehicle crashed down the bank, rolling about four times.
"I couldn't see which way was up. I was just thinking 'please stop'," he said. "When it stopped, I sat there for a couple of seconds."
Realising he appeared to be unscathed, Tautari unbuckled his seatbelt to try and get out of the wreckage, falling down the cab of the truck and hitting his head on the dashboard which, apart from some seatbelt bruising, was the only injury he received in the crash.
Everything else that had been loose in the cab had been squashed or flung out of the broken windscreen as the truck rolled, which would have happened to him too had he not been buckled in.
A woman who saw the crash and had already called emergency services was first to reach him. Tautari said she was astonished to see him walk out of the wreckage.
Despite a bit of a shake-up, he was back at work a day or two later with one important piece of advice for fellow truck drivers.
"Just wear your seatbelt," he said.