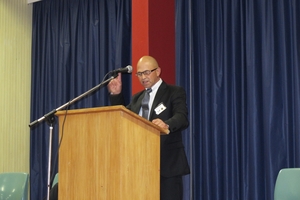 South Taranaki voters turned out in their dozens to hear from their various candidates in Hawera on a blustery Wednesday night.
Thirty-five candidates standing for various local body seats spoke at the meeting, listened to by about 80 members of the public. Organised by Business Professional Women and the Normanby & Hawera Lions Club, the meeting took place in Hawera's town hall, directly opposite the South Taranaki District Council buildings.
First to take the stand for their three-minute sound bites were the seven Taranaki District Health Board candidates. Incumbent Alex Ballantyne said it was vital for South Taranaki to have representation and urged voters to use their votes "alphabetically" by voting for the three B-surname candidates. One of them, Bonita Bigham, said she wanted ratepayers' money to come back to the province, and Stephen Barrett said he would fight "this New Plymouth lot" to keep vital services in Hawera.
A self-proclaimed member of "the New Plymouth mob", former WITT chief executive Richard Handley, said he had come to sound out and understand the issues concerning South Taranaki voters.
Next up were the four Taranaki Regional Council candidates, starting with passionate newcomer Alan Murray, who said he would work with whoever was voted in to ensure a more transparent operation. Five-term veteran Neil Walker disagreed with Mr Murray's allegations of secrecy and listed - at length - the TRC's achievements over the past three years, supported by two-termer Michael Joyce. Another newbie, farmer Joe Menzies, took issue with Mr Walker's statement "why change a winning team?"
"In my experience if a team thinks it's always winning, it's probably quite wrong," Mr Menzies said.
Finally before the tea break were the three mayoral candidates. Former STDC consents employee Henry Kerehoma spoke of a desire to build community spirit and deepen community engagement and the incumbent, Ross Dunlop, said he had "done my apprenticeship" over his two terms in office.
Selwyn Metcalfe, the other newcomer, seemed ill-prepared to take the microphone but was well received when he talked about stopping population drift and combating online shopping.
After the break the candidates for the Egmont Plains, Hawera-Normanby and Patea-Waverley wards went into separate areas of the complex to address potential constituents and discuss the issues.