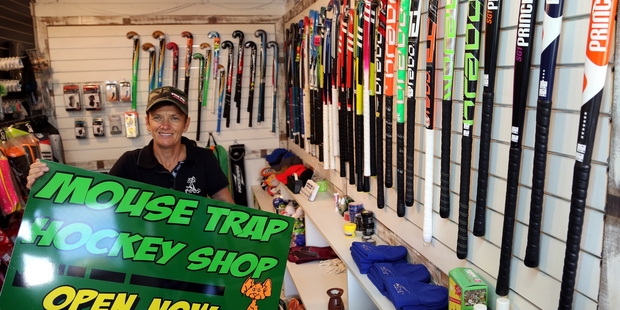 One door closes and another opens, and that's just what's happened for Michelle "Mouse" Low.
For more than 20 years she worked at Eides Sports and, with her background in hockey, she specialised in that side of the retail business.
But when Eides closed its doors, Ms Low saw an opportunity to fill a gap and provide hockey equipment for the sport's followers.
She is leasing space in the Gonville domain hockey pavilion and on Saturday launched her enterprise called Mouse Trap Hockey Shop.
Initially, the shop will be open 5.30-7pm Tuesdays, 3.30-6pm Thursdays and 10am-midday on Saturdays until the end of March. However, when the hockey season kicks in those hours will be extended.
"It works in well with what I do because I'm a hockey coach for Hockey Wanganui and look after the school programme for NZ Hockey," she said.
"I'm working with the schools usually from 9am until 3pm so I'll open the shop after that. Then when the season starts at the end of March through to end of September I'll pretty much be down there every day," Ms Low said.
Her opening day coincided with a mini six-a-side tournament at the hockey turf which attracted 10 teams and 90 players and enjoyed the sponsorship from Pita Pit.
She said anyone coming to her shop will be able to buy everything associated with the sport.
"And what's not there I can order," she said.
And she's confident there is a market for her line of goods.
She's still playing senior hockey and represented NZ at Masters level overseas so she knows the code and the equipment that goes with it.
The sole-operated business is the first time she's set up her own shop. "I worked for Eides for 26 years, so I do know the retail side quite well, and I know the suppliers. You've got to take the occasional risk," Ms Low said.