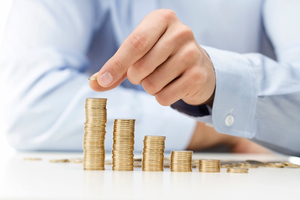 Investing is a tough game, and extremely unforgiving, so needs a disciplined process.
Ditch rose-coloured glasses:
Be disciplined and ruthless. Look at the pros and cons. Make haste slowly.
Time: Very few investments will work well if you don't give them time. A balanced portfolio needs five to seven years for best results.
Short-term trading and speculating is different, and can be very risky.
Work out an asset allocation that meets your risk profile: Decide on one, for example 33 per cent bonds, 33 per cent property and 33 per cent shares. There are many variations. Decide then stick to it.
Rebalance regularly: Allow a tolerance of, say, 5 per cent and then rebalance. This is an essential discipline yet it's a simple tool, too. Do it or pay the price.
Buy quality: Junk bonds might pay a higher yield but, if they do, the risk will be higher - no exceptions. Higher yielding property will usually be higher risk, have little potential capital gain, or be in a waning provincial town - lesser quality. No one ever did badly buying quality.
If in doubt, do half : This is one of the best rules I know. It can apply to buying or selling just about any investment: loans to children, helping a wayward brother, and so on.
Average into investments over time: A logical extension of half now and half later. Once you have decided to invest, buy half now and half in 6 or 12 months (really easy to do with bonds and shares). Then stick to your planned date, and don't second guess the marketplace.
If you buy half now and it does well, you are glad you invested. If it falls, you can buy cheaper in 6 or 12 months.
Diversify widely: Understand this and do it. Diversifying is more or less free, too. Last year, New Zealand shares returned 30 per cent and global shares 15 per cent. This year, New Zealand shares (to October) have risen about 12 per cent, and global shares are up over 20 per cent. Few people (if any) would have predicted these returns, so diversifying across both has worked well. Diversify on and offshore too, since the small New Zealand economy lacks diversity, and is horribly exposed to earthquakes and imported diseases.
Investing in just a few shares: Investing in a few shares is playing. Can be fun, and you might get lucky, but is not serious investing.
Get experienced independent advice: There are very few truly independent advisers - only about 300 countrywide.
Free advice is usually worth what it costs: Free advice is usually offered to get you in the door - to sell you their services or products.
Buy liquid investments: Very few investments nowadays offer any advantage by being locked in, except maybe property.
Liquid investments can double as emergency funds, too, so why not. A good reason to have other investments as well as property.
Don't try to invest based on forecasting or stock picking:
I can't find anyone who can consistently pick stocks, forecast interest or exchange rates or economic events. They don't exist. Use this checklist and you won't go far wrong.
Check costs, fees and commissions: All matter, some are worth paying, but paying stock pickers and forecasters is usually wasted money. Perhaps the worst cost can be the person on commissions or bonuses who wants to sell you something that is good for him or her, but not necessarily good for you.
Do not allow fear or greed to influence your decisions: Dalbar (USA) research indicates that the average DIY investors gets about 50 per cent less return than they should. It is thought they fail mainly as they react to fear or greed; sell out near the bottom when things look bad; buy near the top when things look good.
Avoid new high fliers: Fiduciary guidelines say trustees should not invest if an investment does not have a three-year track record, is not of a reasonable size and is liquid.