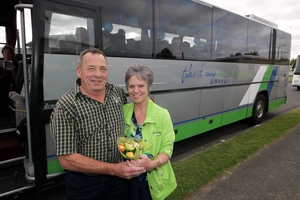 When Don and Marie Adams branched out into the tour business 25 years ago, it was a low-key operation.
They operated the Riverside Inn but when Mr Adams started taking visitors on canoe trips on the Whanganui River, Take It Easy Tours was born.
Getting visitors up river meant buying a small van. But then the Adams' wrestled with the problem of what to do with a van that was sitting idle outside the peak tourist season.
"We advertised in the paper that we were taking a bus trip to Cross Hills Gardens in Kimbolton and we got seven ladies who came along. It just grew from there," he said.
They bought a second van then started hiring bigger coaches before buying their own multi-seater buses. At one stage they ran a 49-seater, a 37-seater and 19-seater, but recently sold the bigger coach. If they need more seats now they simply hire a bus from Tranzit.
Mrs Adams said their client bases extends beyond the city but most of them come from Wanganui.
And some of them have been with them for years. They have a database of more than 400 and send out their newsletter once a month announcing upcoming events and tours.
On Monday Take It Easy Tours staged its 25th anniversary trip, making a nostalgic journey back to Cross Hills with two busloads of 90 people, including some who made those very first trips.
"There are some ladies who are now in retirement homes who won't be making the trip but we're going to visit them later and give them each a piece of our anniversary cake," Mrs Adams said.
"All these people are very special to us. They have struck up some wonderful friendships and have become life-long friends with us as well," she said.
"It's a social occasion for many of these people but especially for those who live on their own. It's a great time for them."
Mr Adams said there were not many parts of the country Take It Easy Tours hadn't taken customers including places like Molesworth Station and the remote farms up the Rakaia Valley.
"We're always trying to think of doing something a little bit different. And that's why people like our schedule because we get to more out-of-the-way places," he said.
Overseas trips continue to take in Australian centres and Norfolk Island. Mrs Adams has made 20 trips to Norfolk leading tour parties. They did Fiji a couple of times but since the political unrest that's off the agenda.
The Adams have recently come back from a six-week holiday in Canada - their first real holiday in the last 25 years - and are now planning a tour to that part of the world.
"This is a year-round business commitment for us. Years ago winter used to be a quiet time but it's not now. We're flat out the whole year with our tour groups and charter work we do as well," Mr Adams said.
Running such a hectic schedule of tours means calling on part-time drivers to share the load.
"But it's a job you never get bored with because we're doing something different every time," he said.
Mrs Adams said it has been that solid clientele base which has been very special to them.