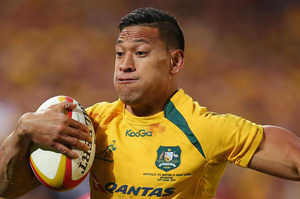 Wallabies coach Ewen McKenzie believes test rugby will see the best of Israel Folau now that his head has been cleared of contractual worries.
McKenzie faces a tough choice whether to move Folau from the wing to fullback for Saturday night's Rugby Championship clash with South Africa after two quiet displays against the All Blacks.
Despite a roving commission, the code-hopper struggled to get involved in the back-to-back Bledisloe Cup losses and there have been widespread calls for him to be switched to No 15 where he starred for the Waratahs.
Brumbies fullback Jessie Mogg is under pressure after two starts as custodian, especially as Folau and fellow winger James O'Connor were the most dangerous ball-runners from their limited opportunities against New Zealand.
While McKenzie has indicated he is likely to make changes for the Springboks, he is giving little away about Folau's role.
"I've been pretty impressed with his contribution," he said. "I'm not worried about where he's at as a footballer. I'm worried about the composition of the group and getting the right balance."
McKenzie felt last week's decision to re-sign with the Australian Rugby Union for two more years would free him of a "background distraction" and allow him to focus better on his game.
"I'm not saying that's inhibited him but it inhibits a lot of footballers," the coach said. "Once that's sorted then you can really focus the mind. Once you do you will definitely see the best out of him in the next period of time."
Springboks coach Heyneke Meyer is already on guard for Folau, no matter where he plays in the Wallabies backline.
Folau carved up on his two-match trek to South Africa with the Waratahs, tearing apart Bulls and Kings defenders who struggled to come to terms with his pace, step and long stride.
"He's just been a revelation to watch in Super Rugby," Meyer said.
"I really believe he's one of the best game-breakers in world rugby and he's only played [one] season."
Australia would love to see Folau pop up all over the field in attack and make an impact like France-bound winger Digby Ioane who regularly touched the ball more than any other.
McKenzie said the five-test rookie's ability to get involved would only improve with each test and more time alongside his new teammates.
"Time fixes a lot of things," he said. "You only fix these things with exposure and getting involved. He's got pretty good instincts."
- AAP