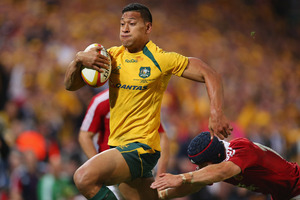 Code-hopping star Israel Folau is set to play for the Wallabies through to the 2015 Rugby World Cup after signing a two-year deal.
Folau, 24, gave Wallabies coach Ewen McKenzie's programme a big vote of confidence as he said he would stay with the Australian Rugby Union and the NSW Waratahs until the end of 2015.
"I've had a great experience with the Wallabies," said Folau. "We've got a young squad and a great coach and we're building our game. We're only going to get better.
"The Rugby World Cup is definitely a drawcard.
"To be a part of that would be an awesome experience."
Folau knocked back offers to return to the NRL, where he first made his name before his less-successful stint in the AFL.
The decision sets Folau up to exceed his achievements in league, where he earned eight caps for Australia, including playing in the 2008 Rugby League World Cup.
A fullback for the NSW Waratahs and winger for the Wallabies, Folau is enjoying an outstanding debut season in rugby.
He was named Australian Super rugby rookie of the year and - despite limited opportunities with the ball - also impressed for the Wallabies, scoring three tries from his first five tests.
McKenzie said there was never a question about whether Folau could make the transition to rugby, just how long it would take him.
"And he's certainly done it faster than most," McKenzie said. "Every week we're finding more and more ways to use his unique skills.
"There's unlimited potential."
Folau said he had been given a "few options" to return to the NRL, but was enjoying rugby too much to switch codes for a third time.
"There's still a lot more ... things I need to tick off in rugby."
- AAP