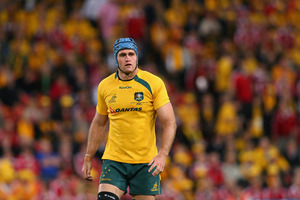 Justice most certainly was not done with the appearance of Wallaby captain James Horwill in last night's Lions series decider - but it was the International Rugby Board who stomped on their own heads in this unedifying foul play drama.
Horwill is the key man in the Wallaby tight five when it comes to power and strength, never mind leadership. But he was able to play in the second test while the IRB wheels of justice turned at glacial pace before clearing him, on appeal, of stomping on Lions lock Alun Wyn Jones.
Sorry, but the tale of the drunken ducks is far more credible than the contention that Horwill did not stomp on Jones. The Drunken Duck is a pub somewhere in England's Lake District, so called because in Victorian times the female proprietor picked up several dead ducks from the side of the road, opposite the lake near the pub. She was saddened but, being a pragmatic sort, began plucking them, readying them for the pot. As she did so, one of them quacked a protest.
Not dead at all. Upon further investigation, she realised that the ducks were alive - merely dead drunk. A beer barrel had leaked into the ducks' feeding trough. Overcome with remorse, she did the only possible thing. She knitted several waistcoats to keep the plucked ducks warm until their feathers grew back.
The ducks may well have been drunk and the landlady may have thought they were dead. The bit about knitting the waistcoats? Not so much. Somehow, the cynic in me suggests that the roasting dish may still have been the source of any warmth.
Horwill should have been plucked but emerged from a roasting of his own to lead the Wallabies last night. The IRB judicial officer, Kiwi QC Nigel Hampton, somehow found thus: "After hearing all the evidence I could not find that when Horwill's right foot came into glancing contact with Jones's face, that Horwill was acting recklessly. I found that I could not reject as being implausible or improbable Horwill's explanation that as he was driving forward with his right leg raised he was spun off-balance through the impact of the Lions players entering the ruck from the opposite side.
There was also some impenetrable explanation about how the slow motion replays could have been misleading. I'll bet a barrel-load of wigs and silk gowns that I've been in more rucks than Mr Hampton and in more dark, satanic mauls too. You learn a bit about the physics of rugby there. Like the fact that a man knocked off balance does not cross his legs; he spreads them.
Look at the video on YouTube. Horwill's left leg is planted, giving him balance. If, as he maintained, his balance had been disturbed, surely his right leg would have moved right to anchor himself. Instead, it moves left, in front of his left foot. This is not the act of a man seeking balance. His foot strikes Jones' head, before an off-balance Horwill staggers away from the maul like, well, a drunken duck. It didn't seem that it was the Lions coming into the breakdown that pushed him off balance; it was his footwork.
Once again the IRB's international judicial process looks daft. The last time this type of nonsense went on was when Adam Thomson used his boot on the head of a Scottish player. He was wearing headgear and Thomson's boot work had all the strength and effect of a mouse wearing carpet slippers.
He was suspended for a week, increased to two weeks after more excruciating delay when IRB CEO Brett Gosper intervened. Fair enough. All players know the head is sacrosanct and even a frustrated tap provokes punishment. So where's the consistency?
The IRB intervened again in the Horwill case, taking the matter to Independent Appeal Officer Graeme Mew, an English-born Canadian. However, it turned out Mew could only rule on whether Hampton had mis-applied some rule or principle; Mew could not re-litigate Horwill's footwork.
How dopey is that? Mired in a complex morass of quasi-legal technicalities, the IRB has rendered itself incapable of applying commonsense to its own judicial process. It clearly wanted Horwill out though the conspiracy theorists had it that the Australian-born Gosper was working the system so that the IRB appeared to be trying to right matters, all the while knowing that Australia's captain would be safe. The idea is laughable.
It hasn't been a great week or two for Gosper. Asked by the Herald on Sunday's Andrew Alderson about the vast cavern of emptiness in the 90,000-capacity Moscow stadium in which New Zealand's sevens heroes won the World Cup last weekend, Gosper said: "... doing it here sends out an important signal to Russians that this is a top-level sport. This place has an iconic value." How's that again? Playing in front of an empty stadium sends a good message? The signal it sends is: No one came. Nothing to drag you away from your vodka here.
However, the big picture is - apart from empty seats in Moscow - that the IRB's procedures still look woefully flawed and inconsistent. With all due respect to Mr Hampton QC and his learned friends, maybe it's time to put in place a panel of former international players to rule on all matters such as the Horwill incident.
Instead of tying itself up in legal knots, the IRB could establish a transparent, timely, independent panel involving different nationalities and with a brief to bring consistency of ruling - by a jury of peers who know the wrinkles and rorts of the game. They could operate, as the current process does, through video contact and they would bring the long-missing elements of commonsense, urgency and consistency to a flawed system.
Let's see - Martin Johnson, Francois Pienaar, Philippe Sella, Sean Fitzpatrick and John Eales, a multi-country panel which needs only a majority vote to pass judgement and sentence. Worth a try, surely. What we've got takes an ice age to act and then comes up with the wrong answer.