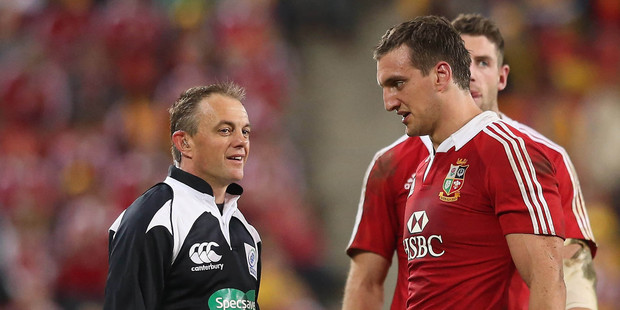 Imagine if they'd lost.
The British and Irish Lions held on for a dramatic victory against the wounded Wallabies on Saturday night, but chose to target the referee rather than improvement before next week's pivotal second test.
New Zealander Chris Pollock came under harsh scrutiny after the 23-21 Lions' win, particularly his handling of the breakdown and Ireland's untouchable prince Brian O'Driscoll.
"It would have been a travesty if ... Pollock, sanctimonious and useless in equal measure, had been allowed the decisive say in matters. He caned the Lions at the breakdown and was a fuss-pot elsewhere. He really was inadequate," wrote the Telegraph.
Lions coach Warren Gatland said he was not happy with Pollock after his side lost the penalty count 8-13 and agreed the official had "crucified" them at the breakdown. "He penalised Mako Vunipola [at the end] for coming in from the side when he had made a tackle and he did Brian O'Driscoll early in the game when he was on his feet.
Brian said ... he was then afraid to go into the ruck in case he got a yellow card.
"It is a big step up from provincial or Super rugby and I think the two touch judges [who referee the next two games] will have learned a lot. With Craig Joubert in charge on Saturday, we will certainly have the opportunity to win some quick, quality ball."
Stephen Jones in the Times said Pollock gave a "dreadful display, one of the worst in living memory". He said the referee sweated the small stuff, while ignoring matters of consistency. "He was terrific at yapping away to anyone who was listening but as O'Driscoll hinted afterwards, most people had given up on him."
The venom simply highlights rugby's chief problem - law interpretation. England's Wayne Barnes, highly rated in his homeland, is viewed as a joke here. Who'd be a ref?