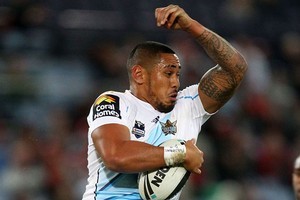 New Wallaby winger Joseph Tomane would have been happy just to play one senior game this season for the Brumbies.
Tomane is one of five uncapped players to face Scotland in Newcastle tonight.
It represents a meteoric rise for the 22-year-old, who returned to rugby after a four-year stint in league with Melbourne and Gold Coast.
Wallaby representation wasn't even remotely on his radar at the start of the year.
"Definitely not this quickly. It's an amazing journey," Tomane said of his test selection.
"Pretty much just to get one game in with the Brumbies, and then hopefully have a good pre-season and get a crack into making the Brumbies team next year."
While he has made a swift transition back to union, Tomane doesn't regard his time in league as wasted.
"I enjoyed my time in league. I had the best four years there," Tomane said.
"I guess I just see it as a different career change - I wouldn't say [they were] lost years.
"I had an awesome time and I had a little bit of success. I played with some great players as well.
"I was coached under one of the best coaches [Melbourne's Craig Bellamy] in the NRL, so I think the opportunity I had in league was awesome."
Tomane was born in New Zealand, but isn't concerned his Australian selection will create a conflict for relatives on the other side of the Tasman.
"I'm sure they will get over it. I'm practically Australian - I've been here since I was 2 years old, so they can't really claim me," Tomane said.
Wallabies coach Robbie Deans sees plenty to like in Tomane.
"He's heady, he makes good decisions, he's accurate, he's good with the ball in the air and he's obviously got some individual capability as well in terms of his own talent, his ability with his feet, his power," Deanssaid.
"They are all things we think will be good value for us."
Wallabies winger Digby Ioane says the excitement generated by six debutants will help Australia overcome their limited preparation.
Ioane features in a backline with four of his Queensland teammates, as well as former Red Berrick Barnes at five-eighths, and says the enthusiasm of first-time Wallabies Mike Harris, Luke Morahan, Tomane, Dan Palmer, Dave Dennis and Michael Hooper will help get the team ready.
"Being the first game of course everyone is going to be excited," said Ioane, who is looking forward to partnering Tomane on the wing. "It's good to see new faces come through."
The Wallabies are motivated by their upset 2009 loss to Scotland at Murrayfield.
- AAP