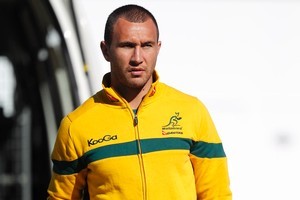 The Australian we love to hate, Quade Cooper, is back in New Zealand for the holidays and spent Christmas at his family's home in Tokoroa.
The Wallabies' first five-eighth, originally from New Zealand, asked his fans what was the best radio station not long after he arrived on Christmas Eve.
"Wasup #Nz good to be here and had a nice smooth flight :) what's the best radio station? Silly me left my iPod at home #nosounds," he asked on Twitter.
Cooper has since shared his Kiwi experience on Twitter and interacted with an All Black.
Jerome Kaino asked what Cooper was "up to" when the player said: "Moments like these ya think just how lucky you are :) thank you to my supporters just arrived & there's a brand new car waiting #lovelife"
The controversial player then replied to Kaino and said he was just reminiscing on his drive to Tokoroa, in the South Waikato.
Cooper told his fans he had a less-than-traditional Christmas Eve dinner from chicken fast-food chain Nandos.
And on Christmas Day, Cooper got sentimental and spoke of the joys of being able to spend the day with loved ones.
"A Christmas Day spent with all loved ones #priceless :) at my family home that I grew up in. It's crazy some of the memories from here :)," he tweeted.
He posted a photo of one of his old childhood homes which brought back "so many memories".
Cooper also shared a photograph from when he played rugby as a child and laughed with his fans about his haircut of choice at the time.
During the Rugby World Cup, Cooper was attacked for going against his New Zealand roots and choosing to play for the Wallabies. He was booed every time he had the ball, especially during Australia's semifinal against the All Blacks. staff reporter