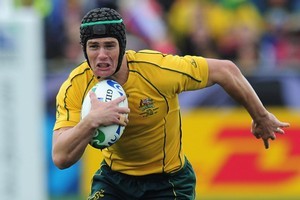 Berrick Barnes, the Wallabies man of the match in the Rugby World Cup bronze final, had to resort to fitness and alternative healing techniques to get ready for the tournament after suffering debilitating migraine problems.
Barnes, who controlled the game against Wales magnificently at Eden Park last night, had to stand down from rugby after the Super 15 competition after ongoing "footballers' migraine" problems.
He had received a series of head injuries during Super Rugby.
Just to get to the Rugby World Cup he had to undergo special training techniques. The Sydney Daily Telegraph revealed he had tried eastern meditation as well as a gruelling fitness programme, whjich included taking padded knocks to the head to test his fitness.
The 25-year-old Barnes undertook alternative therapies to ease anxieties about his migraines.
It all worked for Barnes last night.
Barnes' calm authority was a major ingredient in the Wallabies' victory, 21-18, over Wales and he scored a scorching try.