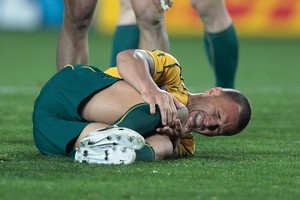 The Wallabies have been struck with a double injury blow in the Bronze Final at Eden Park with star players Kurtley Beale and Quade Cooper hobbling off the field.
The pair had started the match in fine form with Beale attacking from the backfield with plenty of zip after missing last weekend's semifinal clash against the All Blacks.
Cooper, has been the fan's favourite player to jeer at the Eden Park pitch during the 2011 tournament, and his confidence had been hit after being on the wrong side of Kiwi fans.
Yet his early performance in the match had seen touches of his brilliance and flair return to the fore.
Beale fell to injury in the 10th minute after accelerating to meet his first-five's inside pass only to pull his hamstring in the process.
Cooper followed his teammate to the sideline ten minutes later after attempting to sidestep past the Welsh defence he collapsed to the ground and immediately clutched his right knee.
- HERALD ONLINE