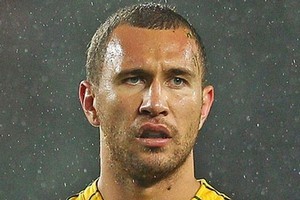 Not even his team-mates know what is coming sometimes - which is why Quade Cooper remains a potential match-winner and match sinner for tonight's Rugby World Cup semifinal.
Coming in to this Rugby World Cup observers would shake their heads when watching Cooper, incredulous at his wide array of weapons and skills in the test match arena. Four weeks later, people are still shaking their heads but for different reasons, surprised at his apparent inability to take the right options under pressure.
He is a highly unpredictable opponent who can be equally baffling for his team-mates. Cooper is charged with trying to confuse opposing defensive lines but during this tournament, it is his fellow Wallabies that have often been left wondering what he will do next.
"It's been as big a learning curve as ever, spending time with him," says Pat McCabe, who has had the unenviable task of playing one outside the mercurial first five. "The more I play with him, the more I understand a little bit of what he is going to do but there are still times where I don't have a clue and he can make you look pretty stupid."
McCabe and Cooper have played only a handful of tests together and have yet to gel in the manner of great inside back combinations of yester-year, such as Michael Lynagh and Tim Horan, or Stephen Larkham and Horan.
Before this international season, McCabe had lined up with Cooper just once, in the 2005 Australian schoolboys team alongside Kurtley Beale and David Pocock.
"You definitely have to be ready for anything and keep your hands up the whole time because he can throw a lot of passes that a lot of people just can't do," says McCabe. "It's taken a bit of getting used to but the more I play with him, the better I feel."
"You have to have those guys who can produce those little bits of magic that can actually win the game for you in those key moments," says Berrick Barnes. "We have definitely got guys that can do a bit of magic but around them, you need guys who are going to work hard."
Many observers feel Barnes is a better option at No 10 tonight, with his composed kicking and passing game, especially if the predicted rain continues in Auckland.
"I think I've been brought in as back-up No 10 but I like playing 12 in this environment," says Barnes. "I think I can complement Quade for sure if I play [second five]."
Cooper has broken the mould when it comes to Australian first fives. Some have compared him to Mark Ella, the legendary No 10 who scored a try in every test on the historic 1984 Grand Slam tour. Ella was a wonderful runner with an eye for a gap but he also knew when to play conservative, territorial rugby.
Michael Lynagh dominated the scene for almost a decade after Ella, and was a kicking first five, much in the style of Grant Fox.
Stephen Larkham was the next great Australian pivot and proved a match winner from the moment he switched from fullback to first five. He had a running game almost the equal of Cooper's but combined that with an outstanding feel for the position and an uncanny ability to make the right decisions under pressure.
Matt Giteau was Larkham's heir but rarely reproduced his Super Rugby form against top class test opposition, while others such as Pat Howard, Rod Kafer and David Knox all had limitations.
Cooper most resembles his league counterpart Benji Marshall but the 15-man code doesn't allow him the luxury of drifting in and out of a match as Marshall tends to do.
The nightmares started against Ireland. His option-taking that night was terrible, as he seemed to play without respect for the conditions or the scoreboard.
Against a limited but passionate Irish side, the lack of direction from first five, allied with a substandard forward effort, was enough to send the Wallabies to the unwanted side of the draw.
Since then, he has appeared to lose an ounce or two of confidence. Against the Springboks, the cavalier instincts were gone; he appeared to be playing under instructions from coach or senior players to keep it tight; to play conservative; to minimise risk.
However, he is best when he backs himself and plays on instinct. He came into the tournament with question marks over his ability to play a plan B type of game when a match becomes more of a grind than a gallop. On the evidence presented, especially in Wellington last week, those questions remain unanswered; tonight, a World Cup semifinal against the favourites, will be the ultimate examination of his verve and nerve.