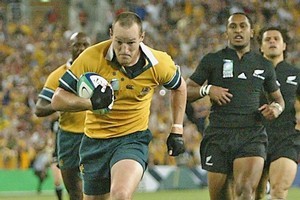 Stirling Mortlock scores against the All Blacks in the 2003 Rugby World Cup semifinal. Photo / Getty Images
Heading into today's Rugby World Cup semifinal the All Blacks hold a distinct advantage against the Wallabies at Eden Park.
However Australia have never lost to New Zealand in a World Cup game.
Click on the graphic below to see which side as the historical edge.
- Infographic by Claudia Ruiz del Ferrier