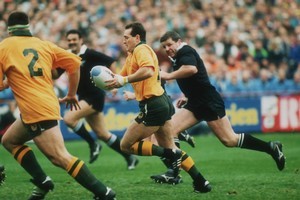 Wallabies legend David Campese has been disappointed by the level of skills on display at the World Cup and lays some of the blame on the referees.
Winger Campese, who scored a try in Australia's last Eden Park win over New Zealand in 1986, has been in the country to help with tournament radio commentaries being broadcast in London.
He said a tough game was always in store for any team visiting Eden Park, but a squad simply had to "turn up and play" to have a shot at winning.
The secret of the 1986 team - the last Wallaby side to win at Eden Park - was their ability, Campese said.
"I think we just had a very good team."
New Zealand's hosting of the World Cup this year had been fantastic, he said.
"It's obviously a place where rugby is a legend here. What happens is everyone knows rugby and loves rugby and is keen, and it's great."
But Campese has been less impressed by some of the play.
"I think at some of the games, some of the skills have been very disappointing overall," he said.
"It's a highly different game. The referees have a big influence on how you play."
Teams had been forced to "play the referee", he said.
New Zealander Bryce Lawrence, who officiated at Australia's quarter-final win against South Africa, had been a disappointment, but so were others, he said.
A key match-up in the upcoming semifinals, between flankers Richie McCaw and David Pocock, would also be dictated by the officiating.
"It depends on who's the referee and who gets away with what," he said.
"The whole World Cup, it's been interesting. There were so many forward passes that were let go and all the time no crackdowns - tackling with no shoulders, no arms, and it's all let go. You've just got to play the referee."
Breakdowns and scrums were also a mess, Campese said.
"You saw some scrums right through the tournament that collapsed once and it's a penalty, and you saw other games where it's collapsed three or four times.
"You've got to realise it's 800kg of men packing in. The thing is the referees have never packed in a scrum in their life - like me... so sometimes it's a lottery.
"That shouldn't be the case. The referees are there to ref, not for the world to watch the ref.
"If two countries play, then someone in the middle has got to control it, but the best referee is the one you don't know who's reffing."
The laws of the game were behind the decline of play, Campese said.
"The rules are more complex - the breakdown is a mess, where you have to have a look inside and you don't know what's going to happen."