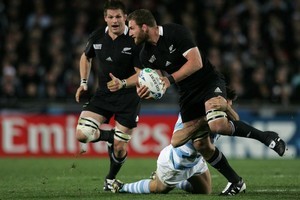 The All Blacks have delivered an early warning for their Wallaby looseforward foes.
No 8 Kieran Read fronted the chat yesterday as he spoke about his pack believing they can dominate the physical battle against their transtasman rivals in Sunday's second World Cup semifinal at Eden Park.
"That is an area where we see we can and especially in that breakdown area, we back ourselves," he said.
"You know it is a good challenge because David Pocock played really well last week.
"He is one of the form No 7's in the competition so it is a great challenge and we back ourselves because we always do when we run out there with the black jersey on.
"The rivalry between Australia and New Zealand is something we expect to win and want to win every time. That is pretty straightforward so from that point of view, it is something you want to do every time you play them."
The All Blacks have not lost at Eden Park since 1994 and not lost at the ground against the Wallabies since 1986 and were determined to carry on that victorious thread.
Injuries were an inevitable part of rugby, said Read, who has only played two games at the tournament since his ankle injury. It was futile to worry about the chances of a recurrence or sustaining any new damage because if you did, then it would likely occur.
"You have just got to get any of those thoughts out of your mind. When you cross the field you just have to think about what you have got to do."
As a youngster his favourite transtasman battle was the 2000 test at Homebush Stadium when the All Blacks won 39-35 with a late touchline avoiding run from Jonah Lomu.
Away from rugby he had been consumed by the Blacks Caps victory in the 2007 Chappell-Hadlee series when they chased down several scores in excess of 300.
If the All Blacks could replicate that sort of intensity and maintain it on Sunday, and play accurate rugby which translated into dominance then Read would be content. He was not ultra-happy with his game but it was coming after a long layoff.
Fellow forward Andrew Hore enjoyed talking to members of the 1987 squad yesterday. Many of them were farmers so it had not been difficult to strike up a yarn. They had done extra well in 87 and the current side felt they were in a strong place to repeat that feat.
Some of them might have some advice about having a few beers and ripping into it but it was probably not the best place to be talking about that "with all you guys hanging around," he chortled, so next question.
Hore had not looked at the Wallaby scrum yet but that had improved and held up against the Springboks.
It had been disappointing to fall to the Wallabies in Brisbane when they last met in August.
The manner of the defeat had been galling but the good thing about professional sport was that there was not a long wait for a repeat chance.
If the All Blacks reversed that result at Eden Park it would be a pretty good occasion.
Hore laughed about the growing Hurricanes' group in the backs with Aaron Cruden joining Piri Weepu, Ma'a Nonu, Conrad Smith, Cory Jane and now Hosea Gear as well. It was a good thing, he said, for that group to show their clout for the All Blacks.
Backline coach Wayne Smith hinted that Piri Weepu's last test at halfback had cemented his fulltime role there rather than as deputy five-eighths.
He looked best steering the side from halfback so that would likely mean the side also carrying a reserve five-eighths.