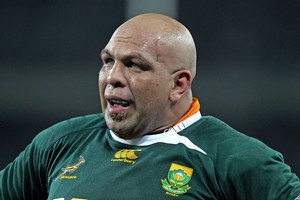 The Springboks have been talking up the Australian pack for all they are worth.
Attempts to elicit more than a respectful nod from the likes of prop Gurthro Steenkamp are met with a stout defence of their opponents, despite Australia being beaten up by the tough Irish pack.
That game cemented the Springboks quarter-final blueprint.
However, Steenkamp said: "The Australian scrum has stood up well in this tournament. I don't see any weak points at all."
Better not to stir a wounded beast such as Australia, and players know that words are used to haunt them. Friday's boast is Monday's newspaper fodder.
It is impossible to go past the ageing South African pack in assessing Sunday's game - their hopes rest squarely with the big men up front dominating the tempo of the match.
The Springboks have very little guile in the inside backs, and their wings are coming off injuries, although there are two surprise packages on the bench in Francois Hougaard and Gio Aplon.
The South African pack is laden with 2007 World Cup veterans. Two of their legends - John Smit and Victor Matfield - are past their prime.
Matfield is carried as a lineout supremo, and there has been none better in the history of rugby.
The dogged Smit also gets a concession, keeping his place ahead of Bismarck du Plessis, because of his leadership and inspiration in a crisis.
But these are not blokes who are going to be tearing all over Westpac Stadium.
Smit will want to turn this into a set piece battle.
Lots of scrums and mauls will be right up their alley, tiring Australia and drawing their loose forwards into the tight.
Pushing the limits in a failed effort to select the injury-plagued Bakkies Botha and picking CJ van der Linde as the reserve prop indicate South Africa will revert deeper into a strong arm game.
Even reserve back Butch James is just about impact free apart from the intimidation factor.
Australia didn't need any warnings about this, and the Springboks weren't giving any.
But the threat is there.