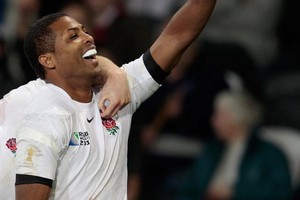 Armitage in doubt
England winger Delon Armitage could miss his side's quarter-final match against France after being cited in the last round of pool matches. Armitage was charged for a dangerous high tackle on Scotland fullback Chris Paterson late in the second half of England's comeback 16-12 win at Eden Park on Saturday night. Bruce Squire will hear his case today at 1pm.
England v France:
Eden Park, 8.30pm, Saturday
Hodgson needed
Western Force flanker Matt Hodgson is tipped to get a Rugby World Cup call-up in time to bolster Australia's ranks ahead of their quarter-final clash with South Africa. Robbie Deans is expected to announce Hodgson as Wycliff Palu's back-row replacement, but a tournament-ending hamstring injury to winger Drew Mitchell means the coach must also find some backline cover. Mitchell broke down in Australia's 68-22 win over Russia in Nelson on Saturday.
Australia v South Africa:
Wellington, 6pm, Sunday
Argentina's ambition
Argentina No 8 Leonardo Senatore acknowledged the scale of the task ahead for his team against the All Blacks this weekend. "It's going to be a difficult match for us. Everybody knows the All Blacks are a very strong team. We have to have the best match in our lives to win." He said his side showed their ability in the 25-7 Pool B victory over Georgia yesterday. "We played with all we have. We demonstrated today that we have a lot of heart and we play with our hearts."
Argentina v All Blacks:
Eden Park, 8.30pm, Sunday
Estebanez cited
France could be without Fabrice Estebanez for their quarter-final clash with England after he was cited for a dangerous tip tackle in Tonga's upset 19-14 win in Wellington. Sukanaialu Hufanga, of Tonga, was also charged for a dangerous tip tackle on French winger Vincent Clerc and will also face a hearing.
France v England:
Eden Park, 8.30pm, Saturday
Boks confident
Springbok coach Peter de Villiers said his team was confident about playing Australia in the quarter-finals. "We're playing against the [Tri-Nations] champions. That's fine. But Ireland beat them, so that's something to look out for." He said the knockout matches required new concentration. "Now, a new focus. It's now about only one game, the only game that can either take you forward or stop you."
South Africa v Australia:
Wellington, 6pm, Sunday