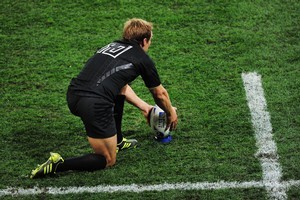 Wilkinson tries kicking wet balls
England first five-eighths Jonny Wilkinson has been dunking rugby balls in buckets of water as part of his training for tonight's clash with Scotland, for which wet conditions are forecast. The World Cup veteran, whose kicking game has been troubled by the competition's new Gilbert balls, revealed the technique in London's Evening Standard newspaper. "We are training for the conditions by using buckets to wet the ball and there is a difference when kicking in the rain," Wilkinson said. There have been warnings of torrential rain for the match at Eden Park. England's kicking coach Dave Alred and strength and conditioning staffer Paul Stridgeon are banned from the game for illegally swapping match balls during the team's 67-3 win in Dunedin against Romania.
England v Scotland:
Eden Park, 8.30pm, Saturday
Talei gets captaincy
Fiji retained only five players from the loss to Samoa and handed the captaincy to No 8 Netani Talei for the World Cup match against Wales in Hamilton tomorrow. Regular skipper Deacon Manu was rested and left out of the match-day 22. Talei, who plays club for the Leinster club, will be Fiji's fourth captain this year. "It's always a privilege to be named as captain," Talei said. "There are lots of senior players on the team, so it's a real honour." Only hooker Sunia Koto, lock Leone Nakarawa and Talei have keep their places in the forwards, while first five-eighths Nicky Little and Gaby Lovobalavu, who has moved out a spot to second five-eighths, were the only backs in the starting lineup which was beaten by Samoa 27-7 at Eden Park last weekend.
Fiji v Wales:
Hamilton, 6pm, Sunday
Canada offers strong line-up
Though weary and nursing injuries, Canada have stuck to their policy of fielding their strongest available line-up for every match at the World Cup by naming a full-strength side for tomorrow's clash with the All Blacks. Five players named by coach Kieran Crowley yesterday have been unable to train in the five days since Canada's disappointing 23-23 draw with Japan and will have their fitness tested before being confirmed in the match-day squad. Only one player, fullback James Pritchard, was unavailable because of injury. Matt Evans moves from wing to fullback and Conor Trainor joins the team on the right wing. "Coming to this World Cup we decided to look at every game on its own. It is a World Cup after all so we took the attitude that we were going to field our best team in every game," Crowley said.
Canada v All Blacks:
Wgtn, 3.30pm, Sunday
Aussies determined to win
Australia captain James Horwill said his teammates were putting their defeat to Ireland behind them ahead of their clash with Russia. "Every time you have a performance you're not proud of, following that you do everything you can to not let that happen again," he said. "Because that feeling you have after a game where you have put in a performance which you're individually and in a group not proud of, sucks. You don't want that to happen again. It's a crappy feeling. We're going to do everything we can not to feel that way again." Horwill is bullish that the setpiece setback was a one-off. "Our scrum has been something we've been improving on this year. Up until the Ireland game, it's been something that's been improving and become a real strength of ours. I can't see it changing. We still work very hard on it."
Australia v Russia:
Nelson, 3.30pm, Saturday
Georgians quick to anger: prop
Argentina prop Juan Figallo said the Georgian players, whom he faces tomorrow, are "quick to anger". "Some have a few fights to their name. Mamuka [Gorgodze], if knocked, gets all fired up, forgets the game and hits out at anyone but he's improved over the years and is a little calmer now. He's always been good to me. I met a few of them yesterday without any problems."
He plays with some of the Georgians at French club Montpellier. "We all have Georgian teammates in our teams and they know them already. We've seen a few videos of them so that we aren't caught unaware in either the World Cup or the Nations Cup." He said "winning up front" was the key to victory. "They're very tough there, physically."
Argentina v Georgia:
P. North, 1pm, Sunday