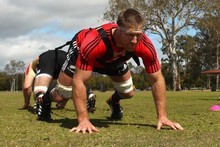 Last time there were tears and an emotional farewell to Suncorp Stadium.
It ruled off a torrid final Super 15 campaign for Brad Thorn, but tomorrow the All Black lock swears there will be no repeat reaction.
This is the final entree before the All Blacks tackle what they hope will be a main course of seven tests ending in a final dessert at the World Cup.
Thorn has turned the page since his visit seven weeks ago when the Reds and Crusaders each fought for their fairytale finish to emotional seasons.
That time it was the Reds who triumphed - tomorrow? Not sure, but it is sure to be Thorn's last big game at the stadium unless he makes an unlikely return with his Japanese club side.
Quizzed on this farewell, Thorn does not exude buckets of emotional nostalgia. It will be poignant, but it is the curtainraiser to the World Cup.
Not just any old test because transtasman rugby rivalry is not like that, not these days. There is plenty at stake, not least some zip in the step for the World Cup after an All Black defeat at Port Elizabeth.
"I was pumped up for the game against the Reds, but have had three games since then and for me I am just excited about playing here," Thorn said.
Tests against the Wallabies were always high intensity, Thorn said, both sides brought plenty of skill and pace to their work. They were a much different side to play than the Boks.
"It is fast footy you know, you are usually out on your feet at the end," he said. "The Bledisloe Cup is really massive to me and to get a Tri-Nations would be good as well," the veteran of 17 years of professional football said.
He had thought about all those seasons when he visited for the Super 15 final, but there was no link between this test and that campaign.
However Thorn expected the passion would be there from the players and fans tomorrow. The lock recalled sledges he had received in both codes from Kiwi and Australian crowds.
He had batteries thrown at him in Wollongong, oranges at Eden Park and perhaps the best in rugby as a fledgling reserve against the Waratahs when he came on for four minutes as a battling No 8. Someone in the crowd made Thorn smile by shouting: "You can make the first 13 in rugby league but not even the first 15 in rugby."
Thorn gets his recall after family leave and joins his Crusaders teammate Sam Whitelock for a duel with new Wallabies skipper James Horwill and the recycled Dan Vickerman.
However fullback Israel Dagg, the star turn last week, has been bypassed altogether by the selectors.
Dagg lit up the Nelson Mandela Bay Stadium last weekend with work which appealed immensely to Henry and his fellow selectors.
However, that did not guarantee him a repeat chance in Brisbane to build after four months out of the game through injury.
His time would come, said Henry, who was sure rugby watchers understood how well the fullback had played.
"He was I thought our best player in Port Elizabeth," Henry conceded. "I'm sure the people who are competing with him for a position in the team understand how well he played, without asking them to trumpet it from the rooftops."
Henry said Mils Muliaina, who had been a special player for the All Blacks, knew there was huge competition for his position.
"On balance, what Mils has done for this team in the last six or seven years has been astronomical and we don't shoot him because some young fella has played brilliantly.
"Mils knows he has to perform now - he always has performed - and there is a young player who wants that position and is playing well."
* Wallabies halfback Will Genia is in doubt for tomorrow's match after being dazed in a heavy collision with lock Rob Simmons at training yesterday.
By Wynne Gray

Email

Wynne