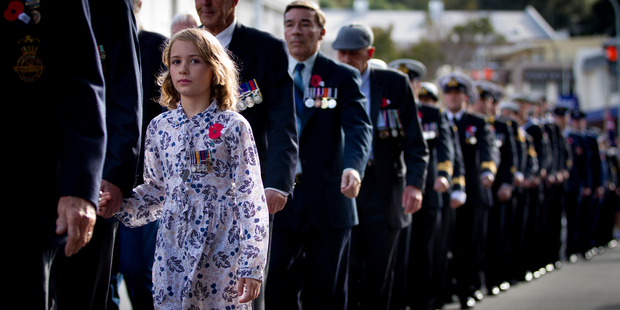 IT'S not hard to turn my mind to my poppa as the country focuses on war.
It's thought provoking reading the stories of the gallantry of those who made sacrifices for our freedom today.
One was my poppa, Charles Henry Crease, who was a flight sergeant in the New Zealand Air Force. He died at Guadalcanal on New Year's Eve the year the war ended and is buried in the New Zealand Military cemetery in Bourail New Caledonia. His name is etched on the memorial wall at Auckland War Memorial Museum. As a child, I would race to the column like a magnet, drawn to a place with a memory of my poppa. I hope one day to visit his grave. Meanwhile, I have photographs of his funeral taken by air force staff and placed on his file.
He died long before I was born yet I know so much about him and am honoured he gave the ultimate sacrifice. Just sad my nan lost the love of her life. She sacrificed a lot as did many other wives, children and parents who lost a loved one to war. Their lives were just as courageous.
Many soldiers and medical staff gave their lives. We should never forget them and what they did.
Reading Don Farmer's piece in Monday's Times-Age sharing a letter medical orderly Wilfred Frank Stone sent to his wife after his survival of the bombing of the troopship Marquette was an eye-opening account. The ship was sunk by a German U-boat in 1915.
It was an extremely enlightening and informative read.
Many more tales will be unearthed as we turn our attention to the past and war I'm sure.
Such a fitting thing for us to do. School children no doubt will be taking part in parades ensuring these tales will be passed on.
From white painted crosses representing the many who died, to sharing their stories and those of their families, this is our chance to remember them.
Heaven forbid: "Lest we forget."
For more articles from this region, go to Wairarapa Times-Age