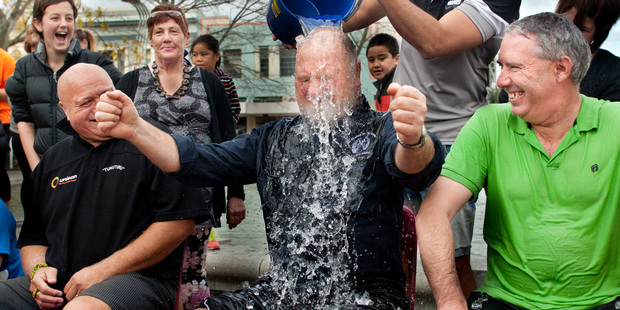 IT IS beyond my ilk to fathom what causes fads, but I certainly won't hesitate to get some mileage on it for the paper.
The Ice Challenge, where people douse themselves in buckets of water and ice and give money to charity, seems to appear now as every second or third news item in the media and TV.
What I've noted is the ever-increasing ways people are coming up with to cover themselves with more and more water. This includes digger scoops, and even a dousing from a helicopter.
I was probably more amused by one newspaper's use of a journalism intern to demonstrate the technique and thus help illustrate a story in the early days of the fad. Now there are countless images online, but I would still award that paper a prize for Best Use of an Intern.
I'm not surprised by people wanting to watch these agonising moments of icy self-flagellation - they're compelling. But it is interesting as why people do it.
Ritual and highly visible humiliation became a televised fad, I believe, when Japanese game shows such as Takashi's Castle started showing on Western TV. We now see American equivalents regularly, where contestants often injure themselves trying to negotiate obstacle courses. The American series, Jackass, involved people actually injuring themselves. It evolved into two movies.
Now the combination of YouTube and smartphones has made it easy for people to debase themselves with vigour.
Perhaps it's experiencing the idea that we're all equal in moments of extreme adversity, when the ice blocks smash into your spine. Perhaps some of us are addicted to shocks. But I think it's more likely that it's a combination of a feeling of being extremely liberating and demonstrating your competitive machismo. Ritual humiliation carries respect.
However, it is unfortunate in New Zealand culture that drinking somehow has to work its way into the situation, as another way to demonstrate how "macho" you are. My view is, one intense extreme is probably good for you. But don't drink and ice.
For more articles from this region, go to Wairarapa Times-Age