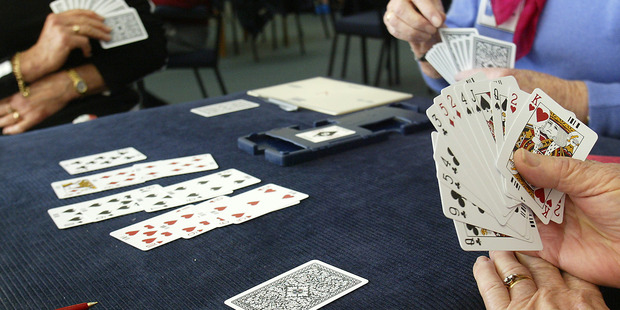 I have a great admiration for those who can play bridge.
I remark on this as Rod Dravitski from the Masterton Bridge Club heads to China to represent the country in the game.
The coverage, albeit small, reminds me that we have people who excel in all sports, not just the "heartland" items that might dominate our recent sports awards.
Bridge is not exactly a spectator sport, but it is quite an intense game. I was taught it when I was younger - perhaps too young, on reflection. I can recall bursting into tears when I didn't succeed in making what I bid for. But I can also recall how Ian Fleming made bridge pretty cool, when James Bond was playing the bad guy, Drax, and cheated with a pre-prepared set of cards to teach the man a lesson. Fleming clearly knew his bridge game.
I don't hear enough from the fringe side of sports, if that's the right word. Granted, it's got to be newsworthy. There has to be a story. But it is a story if someone excels at something to the point where they go international, or become unique in a pursuit.
I would never disparage someone who has that drive for competition, for wanting to beat the other guy, for training to the point of excellence. It could be tiddlywinks. It could be gumboot-tossing, chess, or public speaking. But if you're winning awards, or proudly representing Wairarapa - or New Zealand - in your pursuit, we'd love to hear from you.
I have met people who, when it comes to sport, are good at everything. Natural ability extends across codes. We only have to consider Jeff Wilson, All Black and cricketer. I've watched the Crusaders do judo with black belts, and pick it up nearly instantly. But a lot of us are at least very good at something, and, more importantly, take a lot of pleasure in the journey. Sport is play, in a world where adults don't get to play that much.
Hamish Carter, in his speech about his failures and triumphs, warned us his story might be depressing, but he chose to do something nearly impossible. It's very easy to give up on a sport because of time constraints and busy lives. But think back to how much fun you had. Why not find the time, and have that fun again?
For more articles from this region, go to Wairarapa Times-Age