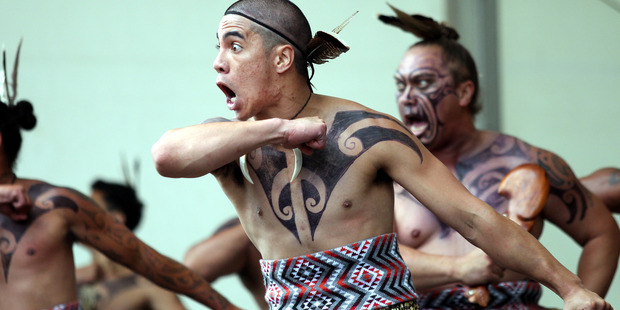 I was fascinated by a Herald article, and video clip, showing how a European ad agency has - once again - ripped off one of New Zealand's hakas.
The French ad shows a group of elderly people warming up with stretching exercises in a field, before powering up into a full-on haka that looks pretty much like the All Blacks' alternative haka, kapa o pango. It's even got the throat-slitting gesture.
The ad has a worthy message - it is encouraging those who have osteoarthritis to exercise.
I'm not Maori, so the catalogue of cultural insensitivities inherent in this ad are going to go right over my head. It's an ad that made me laugh out loud, and applaud the worthwhile message that you keep moving in your old age.
But it is interesting that it's the kapa o pango that got ripped off. It's technically the copyright of composer Derek Lardelli, an associate professor at Gisborne's Eastern Institute of Technology, whereas the more famous All Black haka, Ka Mate, originates with Ngati Toa chieftain Te Rauparaha.
It describes how he hid from his enemies in a kumara pit. Kapa o pango was created, I believe, at a time when iwi Ngati Toa were making a lot of noise about copyrighting Ka Mate. Ngati Toa went on in 2012 to earn "right of attribution" for Ka Mate, although they failed to achieve trademark status. Right of Attribution meant Te Rauparaha has to be clearly identified as the composer of Ka Mate. The requirement does not include public performances.
So perhaps Kapa o Pango was considered easier game for the advertising agency, or maybe they just liked the throat-slitting gesture.
Perhaps it is insensitive to use a Maori haka out of context, but the alternative - consulting a kaumatua - is likely to hit a disbelieving "you want to do what?!" exclamation.
If an ad was racist, or depicted a culture in a negative fashion, there's obviously a problem. But I believe there is room for intelligent humour with advertising. Imitation is the best kind of flattery, and the concept of a group of elderly people suddenly becoming energised and formidable as they get "lost" in the haka is showing a lot of respect for how pyschologically impressive and daunting a haka is. In the sense of a haka empowering people to new strengths and energy, perhaps the ad is much closer to the true context of a haka than we think.
For more articles from this region, go to Wairarapa Times-Age