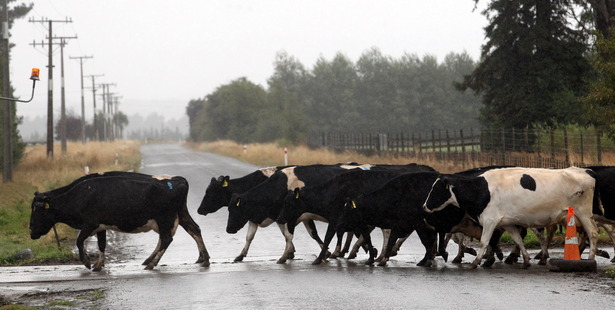 I READ with some interest New Zealand Fish and Game's survey which purports to demonstrate how New Zealand isn't enamoured with dairying practices.
The survey includes the declaration that roughly a third of those surveyed think we've gone too far with dairying based on the effects on the environment.
I'm an editor of a rural daily paper, and after nearly a year I'd like to think I've learnt a few things (I know the difference between baleage and hay, for example), but I get the sense the survey has talked to the type of people who are similar to me: slightly clueless on farming practices but have read a lot of news stories about Fonterra public relations disasters, and seen photos of milk being emptied into lakes.
So I try to picture myself, if I was still sitting in my Churton Park family home answering a phone survey on this, and being faced with these questions.
Do I think the economy is too dependent on dairy farming, and that growth and intensification has gone too far?
I would think: I'm in the middle of Wellington suburbia, how the bloody hell would I know? So I'm inclined to regard this survey as a bit kneejerk.
One also has to be immediately suspicious of the motive. New Zealand Fish and Game has a considerable interest in having clean waterways for fishing.
I have a lot more sympathy with the survey declaring that 70 per cent of those surveyed think dairy farming has made water quality worse than it was 20 years ago. Again, I suspect that response has been enhanced by media hype on "dirty" dairying, but it does ring true. From 2008 to 2012 nearly 200 firms or individuals in the dairy industry were prosecuted for unlawful discharge.
I believe there are culprits in the dairying industry who are not impressive when it comes to keeping our waterways clean, and that has got to be policed. It is right the industry should be under close scrutiny. But I think the survey goes too far in declaring the survey will "shock" the farming industry and could even influence election policy. Frankly, I'm enjoying the lift from the recession years, and I think the public welcomes an industry that is proving successful for our country and economy. But as president of Federated Farmers Bruce Wills put it in 2012, "we need to lift our game".
For more articles from this region, go to Wairarapa Times-Age