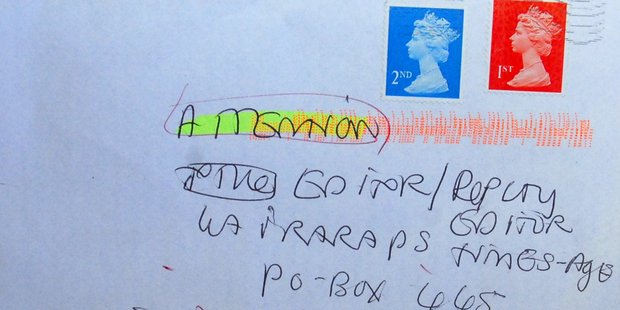 I'M touched by a letter to the newspaper, from an Englishwoman asking for a pen-friend.
Those of my generation can probably remember having one or two, in the days when a person who lived overseas seemed impossibly exotic. Those were the days when you only got Lego if you had a kind Aunt in the UK who would post it. Not only was email utterly non-existent, but so too were computers.
You posted your handwritten letter, hopefully with some attractive stamps from the post office, and had that tingle of anticipation every time you checked the mailbox.
Partially inspired by Charlie Brown's struggles to write to his "pencil-pal" in the Charles Schulz cartoons (Charlie Brown was never brave enough to write with a fountain pen), I had two pen-friends, in Canada and Egypt. It's the sort of exotic novelty that lasts until dating becomes more interesting.
Of course these days, postage is declining, and services are trying to make stamps even more attractive to bolster their declining revenue. In the US, a set of Beatles stamps are coming out, which sparked a minor controversy on whether John Lennon, a non-US citizen, is allowed to feature. He is, but it's a very rare honour.
And of course, there's few stamps more boring than the UK's, as affixed on the hand-written pen-friend request envelope of Miss Angela Gibbons, Liverpool. Unless it's Christmas, the Queen in profile, on a first-class and second-class stamp, is what it took to get her request to the Times-Age.
Miss Gibbons, 50, is looking for a male penfriend who is single. He should be a non-drinker and non-smoker who doesn't take drugs. He should be sincere. "No time-wasters," she asks, closing her letter with a Best Wishes.
A possible relationship is obviously on her mind, and it's touching because most people would simply fire up an internet dating profile at Match.com or any of a hundred dating sites. But Miss Gibbons has chosen the old-fashioned route of not only writing, but sending it to daily newspapers - I'm going to assume I'm not the only one.
Perhaps there might be someone out there who still believes in letters as the way to go? Feel free to contact the Times-Age, and we can give you her address.
For more articles from this region, go to Wairarapa Times-Age