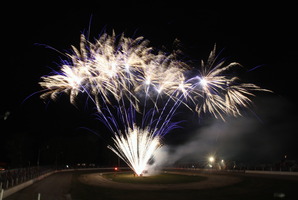 The urge to "be" somewhere at New Year's Eve is almost (in my view) a kind of biological compulsion, in the manner of salmon that are compelled to return to their native spawning grounds. Christmas Day is all about family, but, if you're more or less single, New Year's Eve is really about friends and feeling connected with humanity as that dreaded hour of reality approaches like some fatalistic doomsday tidal wave.
As a younger man, I can remember my brother and I, on a family holiday at Mahia, hunting around the tiny beach town for the "cool" place to be while the "olds" settled in for a night of dancing and music and Hawke's Bay wines at the bach.
Apparently the happening place was a certain street lamp near the dairy.
But, apart from a lot of moths and a few bewildered randoms, it really wasn't happening. In the end, our parents and their friends dancing to Neil Diamond's Hot August Night double album was the best thing going.
Now married, I'm spared that feeling of being at a loose end, and the urge to be part of a crowd as the clock hits midnight.
Why do we want to be with the masses? Sure, for some it's an excuse to party, but I think many feel the weight of a year turning, more so than their birthdays, and that weight is heavy.
I think it's a shame that many associate the turning of the year with a sense of failure. Why do we make these ridiculous resolutions? It's not because we're feeling positive about the year to come. It's because we feel like we let ourselves down to some degree in the year about to depart. Well, inevitably we do.
No year is perfect.
So we make these nonsensical resolutions.
It's a pretty weak word.
It's got lack of willpower and cop-out by February written all over it. "Decision" is a much better word.
And I will wager you the best decisions you have ever made in your life did not occur on New Year's Eve - perhaps excluding those happy people who propose that evening. Think about those decisions. Think about the bravery it took to make them. And realise it was actually you who found that strength once, and can find it again at any time - if it's important enough to you. So don't make a resolution. Make a decision. Or not. 2014 is entirely in your hands.