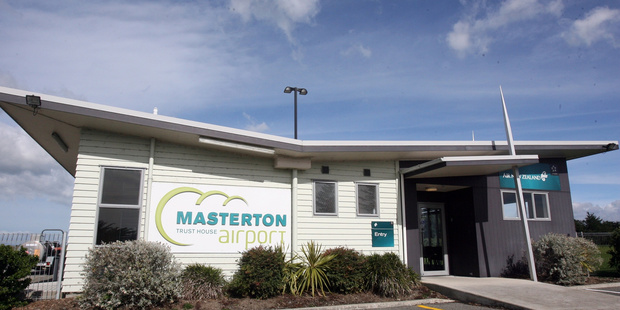 ONCE upon a time, about two months ago, a tall stranger arrived in Masterton with a small but rather sharp-looking aeroplane. He cast an appraising eye over Hood Aerodrome, while locals admired the gleaming wings and trim lines of the fancy plane.
We understand you folks are hurting, what with Air New Zealand pulling out an' all. Well, just so happens, we've got ourselves this plane going spare.
How about we set ourselves up to fly you folk to the big smoke in Wellington, and you can fix yourselves up to fly anywhere you choose from there? I mean, it's not like anyone else is knocking on your door, are they? Well, the locals thought that sounded pretty fine.
The mayor posed up front in the cockpit for a photo.
But then talk comes our way from the neighbouring town of Wanganui. And that talk goes how a tall stranger turned up at the airport in a nice shiny plane and said, hey folks, check out my plane. It's going spare, and seeing how you're about to lose the Air New Zealand Wanganui to Wellington route ...
Seriously, I'm getting the distinct feeling that, with Sounds Air only having the one plane spare, Masterton is going to get jilted for Wanganui.
It's business, darling, it's nothing personal. It's hard to fight against the idea that Wanganui to Wellington is a genuine and probably viable airline route, likely quite attractive to a small airline looking to expand. Whereas flying from Masterton to Wellington was just a fancy way of getting over the hill. I know the costs to fly to Auckland were a bit of a ball-breaker, but Auckland is the magic ticket. Air New Zealand made noises about it not being cost-effective, but with planes averaging two-thirds full, it sounded viable to me.
Our current Masterton mayor, in her campaign leading up to the election, said the route needed to be retained, saying with Air New Zealand being over 70 per cent Government-owned, pressure should be brought on the Government to stop undermining the transport links of rural communities.
With a general election a year away, and a decent fight for the Wairarapa electorate looming, it will be interesting to see what candidates can offer.
For more articles from this region, go to Wairarapa Times-Age