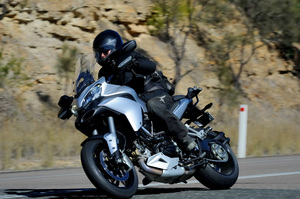 I always make room for motorcyclists in Wairarapa.
I'm not a rider. I don't call motorcycle helmets "lids" or my car a "cage".
I'm just impressed by the number of weekend warriors who come over from Wellington to make Wairarapa their playground.
I would no more try to spoil their fun than I would empty my coffee cup into the face of a tourist exploring the wineries at Martinborough.
I'm smart enough to know that I'm in their way of having a great run on the roads, particularly the Rimutaka Hill, so why not move over? Bikers really appreciate it; you always get a wave.
But my point about tourists is pertinent. Weekend warriors are tourists. They are generally older men with some decent disposable income, which they have already lavished on their bikes and their gears. There's none of this biking around in jeans and sneakers like you see in Wellington rather a lot. These guys are serious.
Wairarapa is already a success in its rural activities, but it's a success that doesn't necessarily translate downwards to the economies of small business. But what does translate is the straightforward transference of money, from one side of the hill to the other. It's in the population growth indicated by the census, the people moving here with their money, but it's also being carried over by visitors - such as bikers. So be nice and give them room.
And, if we are talking about transference of economy, I'm also mercenary enough to figure that, if I let them all through, then there's more chance of one of them coming off up ahead of me, and I'll get an interesting pic for the paper. In the great circle of life (or commerce), I've got to sell papers. Fair's fair.
For more articles from this region, go to Wairarapa Times-Age