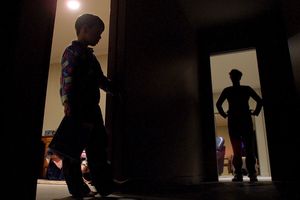 GROWING up in a family where abuse was a normal part of daily life, I made a decision as a reporter that no matter what, my main aim was to educate to bring about change.
As a result, some of the subjects tackled can be extremely hard hitting and, at times hurtful, especially when it comes to abuse or family violence.
Not an easy call when the facts of a violent, abusive relationship is played out in the court system. Often this abuse is dished out in front of vulnerable children - some in the prime of their formative years. They learn to accept this as normal behaviour. Some have said our reportage hurts the children involved, but the reality is those children are already being hurt, and are completely knowledgeable of the situation - knowledgeable beyond what our reportage touches on. Why hasn't someone stepped in before it got to this stage?
Imagine waking in the middle of the night, unable to do anything, hearing your mother being beaten within an inch of her life by the man who professes to love her.
Who will they grow to mirror? A man who gets what he wants through violence and control, or, a woman who allows herself to become another victim. The cycle continues. Our courtrooms bear evidence of this. We, as a community have an obligation to make this change. Sometimes this can be painful for the families. Nothing can be more painful than seeing a soul destroyed by abuse though.
If one story I write evokes enough emotion for one woman to say "no more!" because that could be her, or a violent partner to seek help - then I make no apologies for writing the facts. Being hurtful is not in my nature or my intent. But, sadly, when it comes to abuse there is always more than one casualty. And perhaps the most wrongful aspect is when the abuse stays hidden.
For more articles from this region, go to Wairarapa Times-Age