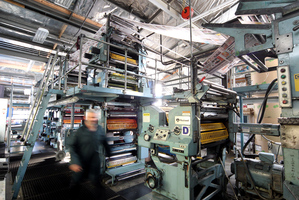 THERE'S an interesting line between a newspaper deciding what is worthy and righteous for the public to know, and what the public think is worth knowing. Every day a newspaper, or indeed any daily media organisation, has to decide what to pursue in the name of public interest. Ideally, this should be the burning topic on people's minds, the issue people are clamouring for answers to, the detail the public want unlocked.
The reality is, for the most part, the newspaper decides what the consumption is going to be that day, because the public rely on us. Journalists are trained to pursue the obvious angles, without being directed by the public. It's a no-brainer to pursue crashes, crime and carnage, and we know this from experience. No member of the public is ever going to Facebook me and say: I'd like to see more crashes, please. But a newspaper knows perfectly well, through long experience, that you always report disasters because they sell newspapers.
Similarly, we know we have to "calm" the paper down with community events, schools, plenty of faces, people doing good works. Personally, because of my community paper background, I tend to give plenty of room for this, because I believe in praising a community.
I know readers take pride in their communities and the people in them, so they welcome stories of that ilk.
But generally, a newspaper is supposed to hear from its public if they believe the paper is not serving them. Our lead story yesterday, on the money spent on the Homebush sewage ponds, is a good example of the public directing the paper to ask the questions again. This prompting doesn't happen often enough.
True, an editor and his team are supposed to be researching the big deal items, but editorial teams - and the editor - change, and with departing personnel goes a lot of background knowledge. If there are some big ticket issues out there, why not remind us of them? We're here in a newsroom, getting out every so often. You're out there for real, in circumstances we probably don't know about. We'll do our best to be the champions for the community - if you let us know what's going on.
For more articles from this region, go to Wairarapa Times-Age