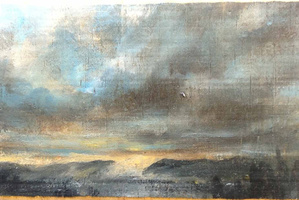 Sometimes, in order to appreciate what a vibrant community we have in Wairarapa, it's necessary to stop still for a while.
Standing still is not the default mode for busy reporters and editors. The thought of a reporter spending an entire day on one project makes even the most relaxed editors twitch, although there are times when creating a story of depth and maturity requires that attention. I spent much of Saturday in the Greytown market in the St John's hall, backing up my wife who was filling an absentee space among the regular stall holders.
I know readers might groan at the suggestion of yet another piece on Greytown's colourful shopping, but when you actually stop still on a very warm day like Saturday, you're able to see the community behind the shop fronts.
The market is a good example of that. It speaks of the values and confidence of those who believe in getting out of bed and putting themselves and their homegrown (or homespun) talent on the line for the judgement of the public.
It's a generation of people who stay young through engaging in the world, while getting the added bonus of friendship and camaraderie that comes with market society. I can see the possibility looming in my own retirement, where I'll still be expected to do the heavy lifting and mind the store while my wife spends the profits.
Up at the butcher's, netball players converge around a fundraising barbecue. The fire station alarm goes off and volunteers head off in their truck in a matter of minutes. Over the road, a new second-hand clothing store has opened. Meanwhile, a man sets up his regular weekend table in a driveway, offering antique woodworking tools. They date from a time when you got smacked if you weren't careful with them, but now mega-stores have made them nearly obsolete. Watching all this, I can reflect that newspapers' stories are meant to be engaging and attention-grabbing, praising good works and condemning the bad, but we can't always convey how communities have a depth of values thanks to the older generation, and what is passed on to the younger. You can see those values everywhere - if you just stop and watch.
For more articles from this region, go to Wairarapa Times-Age