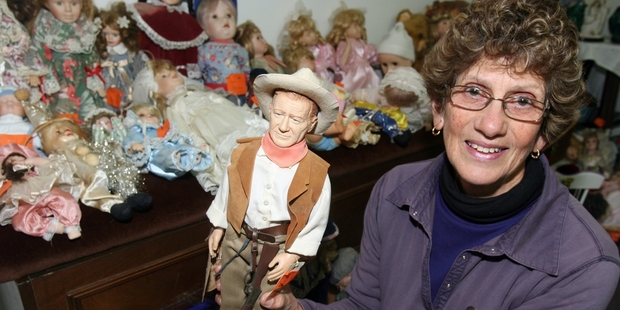 The spoils of years of collecting - dolls, toys, fine china, crockery, and ornamental tigers, cows and witches - are on offer at a garage sale fundraiser for the Masterton Golf Club.
Jocelyn Pollock, club member and garage sale founder, said she and husband Brian, a fellow club member, had last week laid out the Aladdin's Cave of collected and donated goods in a retail space in the Mastermall walk-through to the Farmers store in Masterton.
She said club members had given all the goods for sale and she was refreshing the stock as the bargain stock flew out the door.
Mrs Pollock said some items were "sold off the trailer" as the retail space was being stocked and he hoped the run on merchandise would carry on.
A stack of household items including china, appliances, clothes, books, shoes and crockery was yet to line the shelves at the shop, which would be open and staffed by a "fleet of angels" rostered on duty from club membership ranks from 10am to 4pm, Wednesday to Saturday, she said.
"There looks like years and years of collecting has been put in and then people get tired of it, I guess, and pass it on."
Mrs Pollock said the funds raised at the garage sale would go toward revamping the Masterton clubhouse.
"It all needs to be refreshed and that was my vision - to help."
The garage sale will run for the coming two months and may even stay open longer if needed.
For more articles from this region, go to Wairarapa Times-Age