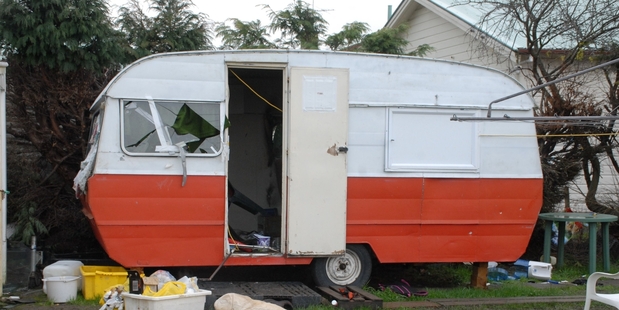 One of two youths seriously burned when a gas canister exploded in a caravan has undergone surgery for his injuries.
The young men, aged 17 and early 20s, suffered serious burns to their hands, arms and faces in the explosion, which rocked central Colombo Rd just before 7pm on Thursday evening.
When the Times-Age arrived on the scene one of the men was being escorted to an ambulance covered by a blanket. Both were taken to the burns unit at Hutt Hospital.
Yesterday the mother of one of the young men, who didn't wish to be named, said she was concerned and waiting to hear from doctors as her son had been rushed into surgery earlier in the morning.
"Apparently a canister exploded in the caravan.
"Police are investigating ... they both suffered the same injuries to their face and hands ... I'm worried about my son."
The caravan had been gutted in the explosion, with windows broken and furniture burned and contents strewn across the yard outside. Glass lay on the pavement close to the house only metres from the caravan, which was used as an extra room but not being slept in.
Children's bikes sat leaning against a fence close by.
A neighbour, who only wished to be identified as Linda, said she was getting ready to watch Shortland St when she heard an "almighty explosion" and ran outside to see smoke and flames.
"It gave me a heck of a fright. I thought it was a crash at the corner at first but then realised it was a fire. I thought it was the house. I was worried about the lady who lives there, she has a lot of young grandchildren living there. I hope everyone is all right."
Senior Sergeant Mike Sutton said the CIB was investigating the cause of the explosion and were waiting to speak with the pair.
For more articles from this region, go to Wairarapa Times-Age