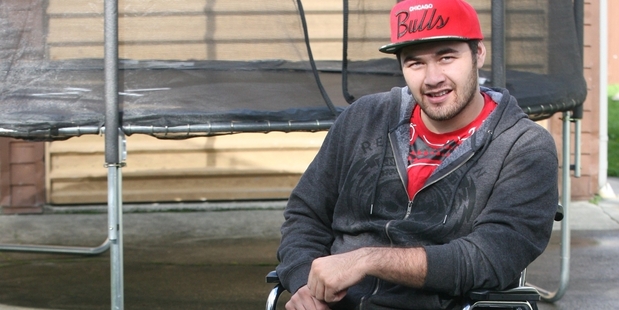 "Hooning" on the beach in a car and crashing in sand dunes has left Nicholas Watson with a clear warning for other young drivers; "don't be stupid behind the wheel."
The 23-year-old was left fighting for his life after rolling his brother's Honda Integra while doing donuts at Castlepoint Beach on December 12 last year. Life changed in an instant for him.
His body was left broken as his legs went one way and his torso another, breaking both legs, shattering his knee caps and a hip and piercing his lung.
He was airlifted to Wellington Hospital in a critical condition in a coma, while his two passengers were unhurt.
At the time, as a shearer Mr Watson was in training for the Golden Shears and was an avid rugby and basketball player.
He doesn't remember anything from the day of the crash, including going to work or heading to the beach after work with his mates.
Mr Nicholas just remembers waking up nine days later with his mother at his bedside.
"I thought 'oh damn, I must have stuffed up. I'm in big trouble now'," he said.
Undergoing surgery and skin grafts, doctors told the young man he may never play sports again, let alone walk.
But this only boosted him to grasp rehabilitation 100 per cent once he got over being depressed about the situation and family dropped his training weights into the hospital.
"I was so determined. It pushed me to walk twice as much. You can't look down. You have to be positive. They have said I will never run again. No more sports I guess ... but this was my own doing. Nobody else's fault. I did this to myself."
He has scars trailing up both legs up to his hip and around his back and he has metal rods and pins in his legs and hips. He is in a wheelchair awaiting more surgery on his knees.
Young people needed to respect just how dangerous a vehicle could be once it got out of control, Mr Nicholas warned.
"They are powerful machines. Respect them and don't be stupid behind the wheel. Don't hoon in cars. I was so stupid. One minute I was sweating it up as a shearer and a sportsman and the next it all just stopped. I was laid up in bed for four months and now I'm in a wheelchair ... I was pretty close to not making it to Wellington."
These days his life is dominated by hospital visits; three times a week he undergoes physiotherapy and on May 22 has surgery on his knees.
Older brother Daniel Watson, 27, said Nicholas lectured him when he and his mates took him for a "burn" in the car after his release from hospital.
"He said 'hey cut that out. No more hooning. It's too dangerous'," he said.
Meanwhile, Nicholas Watson has appeared in Masterton District Court, pleading guilty to driving while forbidden and careless driving causing injury. He has been remanded to reappear on May 19 for sentencing.
For more articles from this region, go to Wairarapa Times-Age