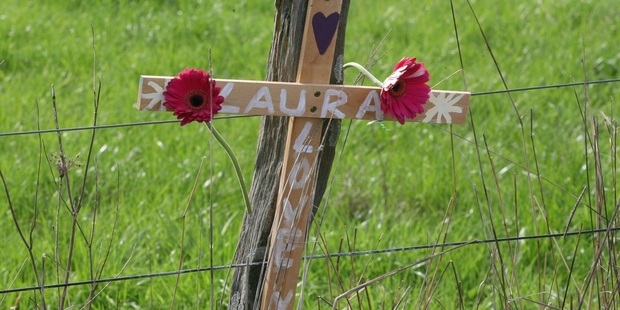 Heartfelt tributes on social media sites have started coming in for 19-year-old Laura Jessop, who was killed in a car crash on the Masterton Castlepoint Rd on Monday night.
The other occupant of the car is still in a serious but stable condition in Wellington Hospital. Flowers and a cross reading "Love you Laura" have been erected at the site of the crash and friends have posted RIP messages on Facebook and Twitter.
"On Monday night a very beautiful friend of mine passed away. I was with her when I took the first shot in this collection of photographs. I am dedicating 'This City' to Laura Jessop. Rest in peace love x," Bradley Garner said.
"My heart goes out to the family and friends of the beautiful Laura Jessop, I didn't know her well, but I always admired her beauty. Keep your heads high and keep strong, nobody realises how delicate a life can be until it's taken," Britt Jones said.
"Laura Jessop, Such a tragic loss of life. To see one so young taken so quickly breaks the heart man ..." Ryan Coles said.
Ms Jessop attended Wairarapa College in her junior years.
Principal Mike Schwass said staff and students were extremely shocked to hear the "tragic news".
"In the short time she was with us she showed real potential. She was a capable and intelligent student and our thoughts are with her family at this time."
Ms Jessop's Facebook page listed some of her interests as music, films, books and fashion.
The Times-Age contacted Ms Jessop's immediate family but they did not wish to comment at this stage. Ms Jessop was the daughter of Carolyn and Peter and sister of Lucy, Jackson, Grace and Oden.
The accident reflects a bad year so far for road deaths in New Zealand.
Assistant Commissioner of Road Policing, Dave Cliff said the death toll on the nation's roads has reached triple figures, with the worst April in four years. "Frustratingly, it's still the basics - drinking and driving, going too fast for the conditions and not wearing a seatbelt, or a combination of all three that is needlessly killing New Zealanders on the nation's roads every week."
For more articles from this region, go to Wairarapa Times-Age