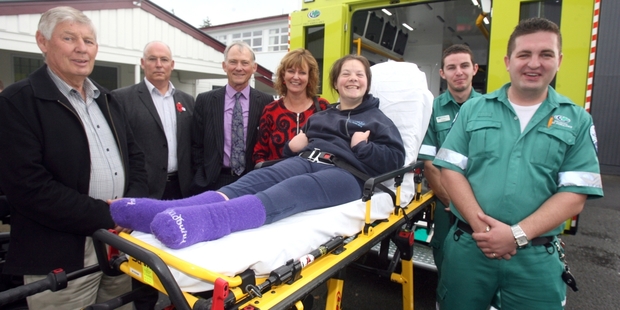 A brand new ambulance worth $250,000 has been added to the Wairarapa fleet.
Wellington Free Ambulance (WFA) unveiled the new ambulance, loaded with paramedic gear, at Kuranui College on Wednesday.
College students received special training in heartbeat CPR at the launch.
Garry Daniell, chairman of Wairarapa Community Health Trust, which helped fund the new ambulance, said it was important Wairarapa had a new ambulance to cater for a sparse, spread out population in a large geographical area.
He said many people in Wairarapa are employed in high risk industries such as farming, forestry and fishing.
A new ambulance in the area would "safeguard" these people.
WFA chairman Ross Martin said their service is world class in measures that monitor performance.
An example he gave is that WFA is a world leader for survival rates in sighted cardiac arrests.
This means that WFA has a better chance of reviving a cardiac arrest patient than most ambulance services in the world.
He said the Wairarapa paramedic division was particularly strong.
"Wairarapa have wonderfully trained staff," he said.
"The Wairarapa division performs fantastically."
WFA is free to patients; in other regions in New Zealand patients have to pay.
Mr Martin said in order to do this they have to raise about $4 million a year. WFA fundraising manager Penny McEwan said it was essential that WFA remained free for patients.
She said patients should never be in a position where they have to think about cost before calling an ambulance.
For more articles from this region, go to Wairarapa Times-Age