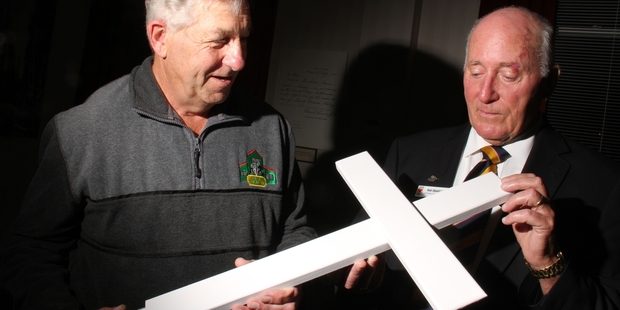 The stage has been set for an unforgettable Anzac Day commemoration in Wairarapa next year with the manufacture and display of hundreds of white crosses honouring the fallen of World War I.
A project driven by the RSA and the three district councils, but involving many others, aims to erect a cross for each soldier who paid the ultimate price during the 1914-18 conflict in each of the Wairarapa towns, bearing the dead soldier's name, regimental number, rank and decorations awarded.
The crosses - expected to number between 500 and 600 for Wairarapa - will be made under the auspices of Henley Men's Shed who will enlist the help of Men's Sheds in the South Wairarapa towns.
It will be up to each town in the district to decide when and where the crosses will be erected with the likelihood they will be put in place just prior to Anzac Day, 2015, and remain for several days afterwards.
At a meeting in the Frank Cody Lounge, Masterton, on Monday Masterton RSA president Bob Hill, who is now also vice president of the national body, said the white crosses project was a nationwide initiative by the Fields of Remembrance Trust and Whangarei had been the first cab off the rank with its planning.
Mr Hill said Men's Shed members will make the crosses and Resene paints has come on board donating white paint for them.
Although planning is still in its early stages school pupils and the Masterton Youth Council are likely to be called on to help, perhaps with the placing of the crosses.
War historian and archivist Neil Frances said the process of collecting names of all those to be commemorated with crosses was under way.
He said one of the main tasks was to make sure a name is credited only once as many war dead were commemorated on several town cenotaphs.
"There is definitely duplication but we will be working south to north to make sure a name only appears on one cross," Mr Frances said.
Merv Brown of Henley Men's Shed said members were yet to source the wood needed to make hundreds of crosses but once work was under way members of the other Men's Sheds would come to Masterton to help with the manufacture of them.
The only remaining snag was perhaps how to store the crosses.
Overall commemorations of the outbreak of World War I, which began in August, 1914, include plans to stage re-enactments of the first soldiers leaving Masterton Railway Station to go off to war and perhaps a re-enactment of soldiers marching over the Rimutaka Hill Road to Trentham military camp prior to sailing overseas.
At Monday's meeting lapel badges featuring a white cross and a poppy were given to the dignitaries present.
For more articles from this region, go to Wairarapa Times-Age