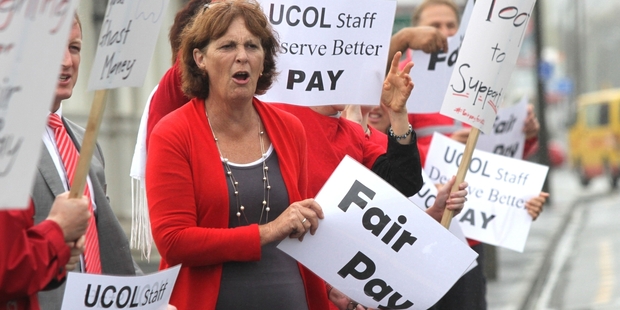 Strong community support was showered on more than a dozen tutors and workers from Wairarapa UCOL who yesterday staged a roadside rally in Masterton to protest over stalled pay talks.
Tertiary Education Union organiser Heather Warren said 13 union members from the Masterton campus had taken up placards and signs for the lunchtime rally, which was held on Chapel St outside Masterton Town Hall.
She said Labour Party candidate for Wairarapa Kieran McAnulty had spoken to the assembled workers, who had gathered "to make a statement about the pay dispute" that had been dragging on for months.
Union members at the Masterton campus had downed tools last month to protest over the long-running stalemate in pay talks that also involved staff at UCOL campuses in Palmerston North and Wanganui.
Last-minute negotiations had last month failed to avert the strike that came after the union last year sought a 2.5 per cent pay increase, Ms Warren said.
UCOL had offered to discuss the pay rise later in the year, she said, but only if the employers received new Government funding, which Ms Warren described as "maybe money or ghost money".
She said there had been a strong show of community support for the workers yesterday, with "plenty of toots and people asking why we were there".
"There was a lot of community support because I believe people here realise what an asset the tertiary organisation was to the region."
For more articles from this region, go to Wairarapa Times-Age