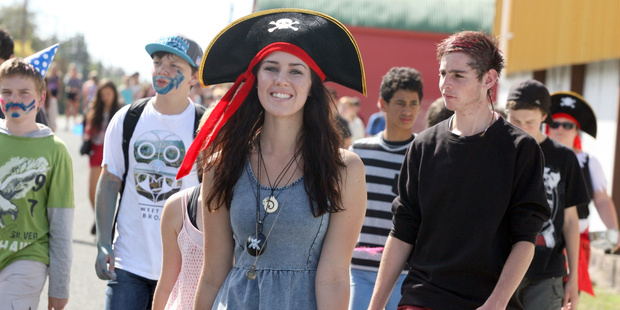 Kuranui College principal Geoff Shepherd is singing the praises of a very successful fundraiser for one of their own.
Yesterday the entire school roll embarked on a 10km walk or run to raise money for Year 11 student Jacob Skinner, who is undergoing chemotherapy after being diagnosed with cancer last week.
Students paid a fee to wear mufti for the day, although many took the opportunity to dress up in costume.
Mr Shepherd said it was "a really nice atmosphere" which took in a barbecue and icecreams after the return trip to Woodside station.
"A group of runners came back in record time, most walked," He said.
The school expected to raise around $2000 from the day, which included sponsors' donations to one student who did the entire trip on a unicycle.
Fundraising would continue into next week and beyond, he said: "It will have a life for quite a while."
Mr Whippy icecream seller Linda Brewer, based in Greytown, offered icecreams with 50 per cent of the profits going to Jacob's fundraising.
She said she read about Jacob in the Times-Age and wanted to help.
As Mr Whippy was already marking its 50th anniversary in New Zealand with a fundraiser for child cancer, she said she thought it could be extended for "a local boy".
"The icecreams were very very popular," Ms Brewer said.
"Most people said, it was the thought of Mr Whippy being at the end that kept them going."
For more articles from this region, go to Wairarapa Times-Age