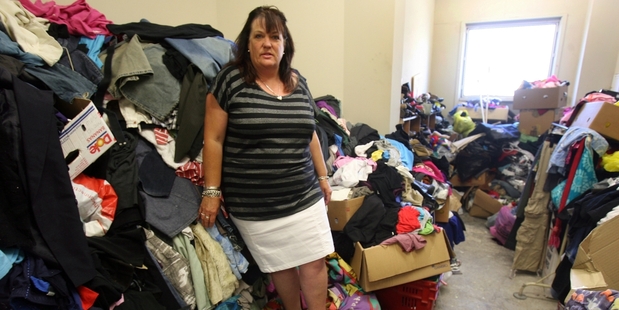 Surplus stock from the Wairarapa Resource Centre is being given a new lease on life as young women are taught how to up-cycle and make crafts from the pre-loved clothing.
Every Thursday the centre drops off a large commercial-sized bag of clothing, considered excess to stock, at the former Amatiatia Mission and polytechnic institute, now run by Life XChange as a place for people needing support.
Resource centre co-ordinator Trudie Jones said they didn't want to dump the clothing that could be re-used or turned into something better.
They have a large pile of excess clothing at the King St centre which they have affectionately called Mount Mohammad.
"It's given a second chance. It can be up-cycled or made into something which can be sold on or re-used ... we are just passing it on. Everything can have a second life this way," she said.
Life XChange co-ordinator Sarah Leeks said the clothing would be used to teach women living at the Lansdowne community how to up-cycle the clothing for their children and how to turn unwanted clothing into crafts.
She and husband Peter run the centre with a social worker and another couple helping to support the residents. They also run an orchard and community garden on site.
The women will save money on clothing their families and learn a skill to make money in the future.
"We sort through the clothing and see what it can be used for. Whether it can be altered or up-sized to give it a new life ... we want to bring their ideas to have a vision for it. They can see the potential in the garment and see something they have made themselves." It's a skill which would help them into the future, long after they left, Mrs Leeks said.
For more articles from this region, go to Wairarapa Times-Age