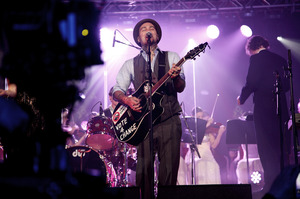 Tiki Taane returns to King Street Live tomorrow night.
The double platinum-selling artist, who is renowned for his live performances and powerful anthems, is to MC at the Masterton venue alongside DJs Reno and Sambora of legendary Kiwi drum'n'bass group Shapeshifter and will be "spinning all things deep and heavy" and playing a selection of Shapeshifter tunes and a slew of unreleased specials and remixes, King Street Live spokeswoman Ange Kalogeropoulos said.
Taane performed at the launch of the Masterton venue in May last year and will reprise a platter-spinning outro that kept the opening night audience dancing into the small hours, Kalogeropoulos said.
She said the Bass Heavy dance party will range through a multitude of genres including hip hop, drum'n'bass, dub step, jungle "and more".
"Tiki's extraordinary ability to rock the mic as both a gifted MC and solo as an acoustic performer is something to be experienced firsthand."
Devin Abrams aka Reno - a keyboardist, sax player and founding member of Shapeshifter, is a "longtime fixture" on both the live and electronic Kiwi music scene and has been a prolific recording artist under the name Pacific Heights, releasing Pacific Heights in 2001, Frozen Fears in 2003, Borne Together in 2004 and In A Quiet Storm in 2008.
Sambora aka Sam Trevethick is a guitarist and keyboardist in Shapeshifter who "regularly finds time to do remixes of many well-known NZ artists" and also plays as one half of the group The Peacekeepers alongside with PDigsss.
"Tiki has the sheer power to unify and wow an audience and I am certain he will seamlessly deliver to Masterton a unique MC experience. This will be one hell of a dance party," Ms Kalogeropoulos said.
There are a strictly limited number of tickets available at $20 each through dashtickets.co.nz or at Masterton Musicworks. Wairarapa Times-Age readers can get a $5 ticket price discount online using the promotional code TIMESAGE at checkout. Door sales also will be available from 8pm on the night.
For more articles from this region, go to Wairarapa Times-Age