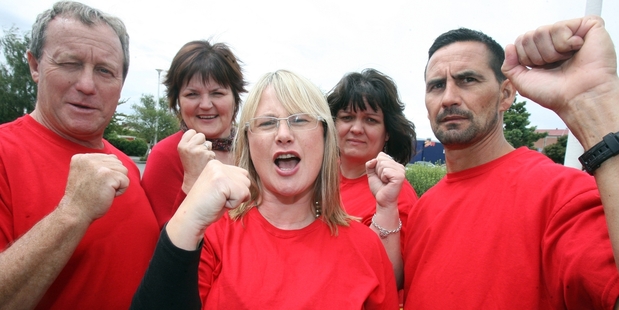 More than a dozen Wairarapa UCOL staff walked off the job yesterday in protest at stalled pay talks.
Nicki Wilford, Tertiary Education Union organiser, said 14 unionised staff at the Masterton campus downed tools for two hours from 1pm in the latest round of a long-running stalemate in pay talks that had dragged on for months.
Last-minute negotiations yesterday failed to avert the strike, Ms Wilford said, which also involved staff at UCOL campuses in Palmerston North and Wanganui.
"It's very unusual in the tertiary sector. We don't strike or go to industrial action until we've exhausted every other avenue - we're not as militant as others - but we've been hammering this for so long and not getting anywhere," Ms Wilford said. "This is a last resort."
Ms Wilford said unionised staff were seeking a pay rise, which UCOL had offered to discuss later in the year, but only if the employers received new government funding.
"We want a pay offer that we can take to members and not have them laugh in our face. Because they're not keeping up with inflation and we're are so far behind in that sense and, comparatively, UCOL salaries are way below others in the sector as well."
Ms Wilford said the strike action involved members throughout the faculty and administration and comes after union action was taken a fortnight ago at the Wanganui and Palmerston North campuses.
For more articles from this region, go to Wairarapa Times-Age