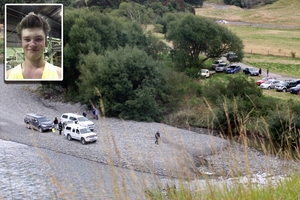 Searchers scouring a Wairarapa river for missing Kopuaranga man Jesse Barber have recovered his body.
Police divers this morning joined the search for the 19-year-old, who failed to surface in a "swift and dirty" Ruamahanga River at Opaki, just north of the town late yesterday.
Police released his details after family identified his body at the scene of the tragedy about 1pm today.
Mr Barber had been swimming in the swollen river with a group of friends and "got into difficulty in a deep, turbulent pool" near an area known as Double Bridges at about 5pm yesterday, police spokesman Nick Bohm said.
An initial search was launched about 5.30pm yesterday involving the Life Flight helicopter, a jet boat, LandSAR search teams, firefighters, ambulance and police officers, family and friends.
Searchers had returned empty-handed last night after several hours of scouring a three-kilometre stretch of the river north of Double Bridges to a point near Rathkeale College.
"Similar resources will be used again in the search this morning. The police dive squad will also assist."
Mr Bohm said river conditions at the time of the teen's disappearance "involved swift and dirty water" caused by rain in the Tararua Forest Park. River conditions had improved overnight.
Life Flight crewman Dave Greenberg said the river late yesterday afternoon had been "flowing fast and there was a lot of water".
He said the helicopter carried three searchers and a pilot and had descended at times to within 100 feet of the river surface during an intense search that lasted about an hour.
He said the helicopter had made three search passes of the three-kilometre stretch of the river.
For more articles from this region, go to Wairarapa Times-Age