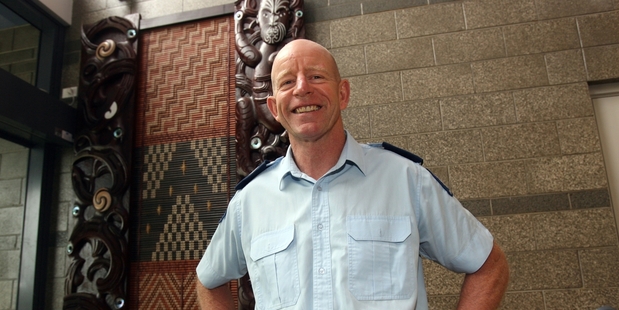 Wairarapa has bid farewell to one of its longest-serving sergeants, Warwick Burr.
Mr Burr, or Wojo to his friends, has taken up an inspector role, as a national training manager of promotions and development, in Porirua.
He attended Trentham Police College in 1979 and was posted to Masterton in 1980. In 1988, he was promoted to sergeant and left Masterton in 2001 for a two-year stint in Kaikohe, where he was promoted to senior sergeant. He returned to Masterton as a senior sergeant in 2003.
In 2012, he took a temporary position at the Royal New Zealand Police College, in Porirua, where he spent six months as the head of school, for initial training of recruits.
After accepting the promotion to an inspector role, Mr Burr's last day, as a Masterton senior sergeant, was last Friday.
Mr Burr said he would miss the community and the staff at the Masterton Police Station.
"[I have] lots of good memories. It's just time to have a new challenge, I've had this role [as senior sergeant] for nearly 10 years."
Wairarapa area commander Brent Register said Mr Burr, with more than 30 years' policing experience in Masterton, was up there with some of the region's longest-serving sergeants. "He's up there but certainly not the longest."
Mr Register said Mr Burr had been involved in planning the first La De Da concert, in Martinborough, and was a well-liked and respected member of staff.
"He will certainly be missed, he has a wealth of experience in Wairarapa and a wealth of community contacts.
"He had fantastic qualities around integrity, when a job needed to be done it would be done.
"He was a stickler for the police values, which are integrity, professionalism, respect and commitment to Maori and the Treaty of Waitangi."
Detective Sergeant Bill van Woerkom, who worked alongside Mr Burr for more than 20 years, said he was a good friend in and outside of the force.
"He's an ideal person to have at your side when there's a stressful situation going on, he's a good team player and a good leader ... he'll be a great loss here."
Mr Burr began his new position earlier this week and police will be interviewing to fill his former role next week.
For more articles from this region, go to Wairarapa Times-Age