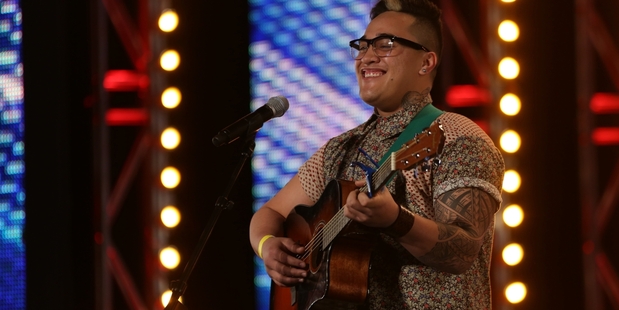 Masterton performer Cruize Karaitiana has won a grand finalist berth in the New Zealand's Got Talent television show.
Karaitiana, 23, who is a mill worker by day for Juken New Zealand Wairarapa, thanked the supporters across New Zealand who text voted for him and after his victory was announced he also voiced to the TV One studio audience "a huge thank you to my sister who is watching me from above".
"She is my inspiration. She is the reason I'm here today."
Karaitiana received a standing ovation during his audition on the show for his heartfelt rendition of the Tracey Chapman song Fast Car, which he dedicated to his late sister Shanice Karaitiana, 19.
She had originally introduced him to the Chapman song, Karaitiana said during his show segment, but in November last year "took her own life".
Karaitiana performed the Bruno Mars song Just The Way You Are on the show which gave him his winning count of public votes earlier this month and he will move forward to a final showdown against 11 other grand finalists in the show climax next month.
He said yesterday he was humbled and "absolutely grateful" to the viewers and supporters who had voted for him and he was now putting his head down to choose the song that could win him the contest at the grand final.
Karaitiana will need continued public support and viewer votes via text messages to take the crown once the grand final has aired.
TV One spokeswoman Sara Cairney said Karaitiana had amassed a solid following since his first appearance and there had been "a huge reaction" in his favour online. "Cruize has been obviously very popular and there has been overwhelming support for him on social media."
Tamati Coffey returned to host the latest series of the show alongside a judging panel that includes Kiwi performer Jason Kerrison, former Kiwi supermodel Rachel Hunter and American choreographer Cris Judd.
Karaitiana made the grand final of the My Country Song show on Maori Television in June alongside fellow Wairarapa entertainers Tanya Warren, and Mel and Pip Maynard, and also captured a finals berth in the Freshly Squeezed Talent Quest in 2010 alongside fellow Wairarapa singers Jenn Shelton and Ririwai Fox.
Karaitiana, who hopes to study music, previously won regional Battle of the Bands plaudits as lead singer with the Makoura College hip hop fusion band SKUX and as a country and western section winner in the Wairarapa Celebration Awards.
For more articles from this region, go to Wairarapa Times-Age