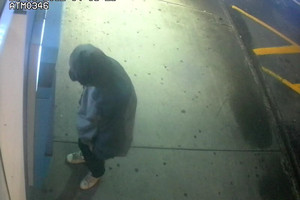 Wairarapa-wide police surveillance of public places through security cameras may soon be in force.
Masterton District Council recently installed equipment in the Masterton Police Station to allow the police to monitor the downtown security cameras in Masterton, from the station, and it looks like Carterton will be next.
Carterton's CBD security network consists of six cameras, which will soon be centrally monitored from the Carterton Events Centre communications room.
The cameras were previously monitored from the Carterton police station, which was difficult to access at times, Carterton District Council community facilities manager Brian McWilliams said.
The Greater Wellington Regional Council also operates 10 security cameras at the Carterton Railway Station, which are part of a remote monitoring system operated in the capital.
Mr McWilliams said while it was useful for council to be able to monitor the footage themselves Masterton police had also been offered the option of hooking into the cameras to view footage directly from the Masterton Police Station.
"I know the police were trying to link all the Wairarapa [footage] into one.
"What I've been told is that they will have the ability to hook into this, they seem quite happy with this," he said.
Mr McWilliams said work to centralise the CBD camera footage into the events centre was likely to be completed by next week.
He said the new system would allow for extra cameras to be added easily and would be wireless.
"The idea is to get it on our smartphones so we can see what's happening."
Mr McWilliams said security cameras were essential for "apprehending people who do something wrong".
Masterton has 10 surveillance cameras and Masterton District Council are hoping a camera technology upgrade and an increase in the number to 12, with two monitoring the new town square, will be complete early next year. Currently, South Wairarapa have no security cameras but South Wairarapa District Council amenities manager Helen McNaught said council were considering installing some. The cameras would link into Masterton's system and be monitored at the Masterton Police Station as well.
For more articles from this region, go to Wairarapa Times-Age